The 'Green Room' Radio Show Is Here To Teach You About Hardcore Punk Rock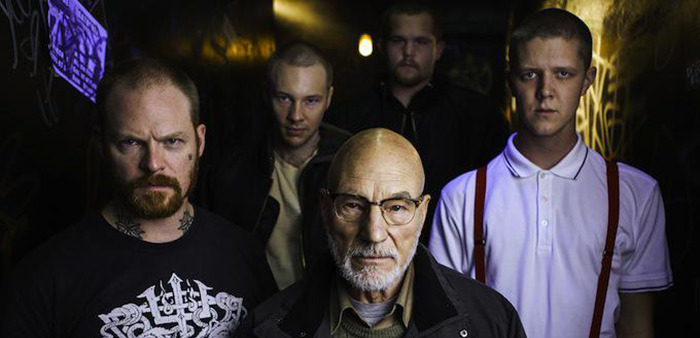 We love Green Room at the site. Both Jacob Hall and I saw Jeremy Saulnier's (Blue Ruin) third feature film at last year's Fantastic Fest, and if it was released last year, it definitely would've made our top 10 lists. It's a frenetic, brutal and uncompromising siege film. Green Room is also a ton of fun, in spite of the dark material.
Saulnier's action-drama opens in theaters next month, and to continue to raise awareness, A24 has created a Green Room radio show.
For those of you who don't know, Green Room is about a punk rock band, led by Anton Yelchin (Like Crazy), that must fight for their lives against a pack of neo-Nazis. While the trailers have properly reflected the story and tense mood of the film, it's best to avoid them and discover for yourself how the band ends up in this situation.
Since the film is about a punk band, A24 has launched a radio station to promote the movie. In the press release sent out, it said the online punk radio show will include "intimate interviews, anecdotes, and a rotating playlist of hardcore punk rock." The program is hosted by Tony Rettman, the author behind NYHC: New York Hardcore 1980-1990. The first episode was released today, and it features Ted Leo of Ted Leo and the Pharmacists.
Every Wednesday at 12 p.m. EST you can listen to Green Room Radio. The episodes will then be released on iTunes, Mixcloud, and Soundcloud. If you want to brush up on your punk history, then this podcast isn't a bad start. I'm halfway into the first hour-long episode, and even as someone who doesn't listen to much punk rock, it's an entertaining episode thus far. Rettman's chat with Ted Leo is natural, loose, humorous (the oddballs Ted Leo has crossed paths with, in particular, are quite funny), and informative so far, providing a backdoor look into the world of punk rock.
Here's the official synopsis for Green Room:
GREEN ROOM is a brilliantly crafted and wickedly fun horror-thriller starring Patrick Stewart as a diabolical club owner who squares off against an unsuspecting but resilient young punk band. Down on their luck punk rockers The Ain't Rights are finishing up a long and unsuccessful tour, and are about to call it quits when they get an unexpected booking at an isolated, run-down club deep in the backwoods of Oregon. What seems merely to be a third-rate gig escalates into something much more sinister when they witness an act of violence backstage that they weren't meant to see. Now trapped backstage, they must face off against the club's depraved owner, Darcy Banker (Stewart), a man who will do anything to protect the secrets of his nefarious enterprise. But while Darcy and his henchmen think the band will be easy to get rid of, The Ain't Rights prove themselves much more cunning and capable than anyone expected, turning the tables on their unsuspecting captors and setting the stage for the ultimate life-or-death showdown. Intense, emotional, and ingeniously twisted, Green Room is genre filmmaking at its best and most original. Saulnier continues to build his reputation as one of the most exciting and distinctive directors working today, with a movie that's completely different from his previous, highly acclaimed Blue Ruin, but which is just as risk-taking and even more full of twists. The entire cast deliver first-rate performances, but Patrick Stewart gives a transformative and brilliantly devious turn as Darcy-elegant yet lethal, droll yet terrifying, Stewart makes the film simply unforgettable.
Green Room opens in limited release on April 15th before going wide on April 29th.