'American Gods': Ian McShane To Play Mr. Wednesday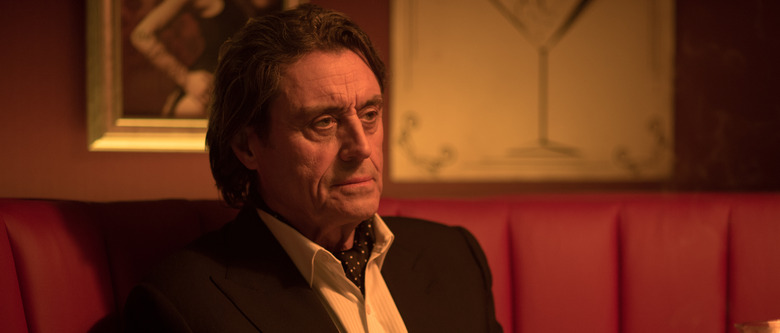 American Gods fans, your prayers have been answered. In honor of, um, Wednesday, Starz has just revealed that Mr. Wednesday will be played by the great Ian McShane in Bryan Fuller and Michael Green's upcoming adaptation of Neil Gaiman's novel. McShane joins Ricky Whittle (The 100), who was cast as lead character Shadow Moon several weeks ago. 
Fuller did not hold back his excitement when he shared the news on Twitter.
GODDAMN, WE GOT McSHANE! #WonderfulWednesday @AmericanGodsSTZ @andmichaelgreen @DAVID_A_SLADE @neilhimself pic.twitter.com/dY4Q43s88a

— Bryan Fuller (@BryanFuller) March 2, 2016
Gaiman shared his thoughts in a statement:
When you write a beloved character (beloved with, or despite, or because of all his faults) like Mr. Wednesday, you get to watch the Internet trying to cast the role. I've seen a hundred names suggested, but few make me grin like Ian McShane does. I've already been lucky enough to have him in one film (he was bright blue in it, animated, and probably Polish). Now I count myself even luckier: he's made the journey from Lovejoy to American Gods. Yesterday was Super Tuesday. Today is Wonderful Wednesday.
Added Green and Fuller:
Actor. Icon. And now god. It is a goddamn delight to be collaborating with the incomparable Ian McShane — again and for the first time — on a story about faith and belief, with the utmost faith and belief in Mr. McShane as our Mr. Wednesday. A wonderful Wednesday indeed.
Even before today's announcement, McShane was a fan-favorite pick to play Mr. Wednesday, a charismatic grifter who projects authority and power. The British actor is probably best known in the U.S., however, as Al Swearengen in the HBO series Deadwood. He returns to the network this spring with a minor role on the sixth season of Game of Thrones. His other recent credits include recurring roles on American Horror Story: Asylum and Ray Donovan, and the movies John Wick (yes, he's returning for the sequel) and The Brothers Grimsby.
McShane is already familiar with much of American Gods' behind-the-scenes team. He voiced the character of Mr. Bobinsky in Coraline, based on one of Gaiman's novels, and starred in Kings, a short-lived NBC series created by Green.
Shooting on American Gods begins in April, so expect many more casting announcements over the coming weeks. Fuller and Green serve as writers and showrunners, and David Slade is directing the pilot. No premiere date has been announced. Here's the synopsis from Starz:
American Gods been translated into over 30 languages and earned numerous accolades including Hugo, Nebula and Bram Stoker Awards for Best Novel. The plot posits a war brewing between old and new gods: the traditional gods of mythological roots from around the world steadily losing believers to an upstart pantheon of gods reflecting society's modern love of money, technology, media, celebrity and drugs. Its protagonist, Shadow Moon, is an ex-con who becomes bodyguard and traveling partner to Mr. Wednesday, a conman but in reality one of the older gods, on a cross-country mission to gather his forces in preparation to battle the new deities.