'Surf's Up 2' Is Happening, But This Time With WWE Wrestlers As Surfers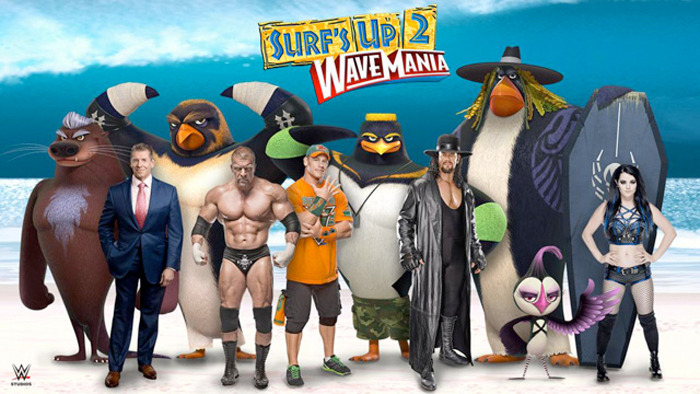 Next year it will be 10 years since Surf's Up hit theaters and went on to get an Academy Award nomination for Best Animated Film. However, you might not remember the film since it only pulled in $58 million domestic and another $90 million internationally on top of that. Nevertheless, Sony Pictures Animation has apparently determined there must be some interest left in Surf's Up since they've just announced a sequel – with a twist.
Surf's Up 2: WaveMania will bring in professional WWE wrestlers John Cena, The Undertaker, Triple H, Paige and Vince McMahon as a big wave riding crew who let young penguin surfer Cody Maverick join in on a journey to a legendary location where the biggest waves in the world are rumored to hit the shore.
For those who don't remember, the original Surf's Up was a mockumentary-style comedy that followed Cody Maverick (voiced by Shia LaBeouf) as he set out on his dream of becoming a champion surfer. It just might be the most underrated animated flick of the past 10 years as it's extremely funny, had stunning animated for the time, and featured Jeff Bridges being an animated penguin version of The Dude from The Big Lebowski.
WWE Studios and Sony Pictures Animation made the announcement for a follow-up today, pegging the film for release sometime in the spring of 2017. However, they don't mention whether or not this will be a straight-to-video release or if it will also hit theaters. My bet is on the former, but wrestling just might have a big enough audience to make this a decent box office draw.
Anyway, here's the official synopsis for Surf's Up 2, along with character shots:
Cody Maverick, hungry for a new challenge, convinces an infamous big wave riding crew known as The Hang 5, voiced by WWE Superstars John Cena, The Undertaker, Triple H, WWE Diva Paige and Vince McMahon, to let him join them on their journey to a mysterious surf spot known as The Trenches, where legend has it, they'll find the biggest waves in the world. Cody soon discovers that the life he left behind might be more heroic than what any death-defying wave has to offer.
The return of Shia LaBeouf hasn't been mentioned at all, but it's almost a guarantee that he won't be back for the sequel. LaBeouf has been plenty busy on his own with special art projects and being just a little bit strange to make his return to a family film like this. And I'm betting that other voice talents like Jeff Bridges, Zooey Deschanel, Jon Heder, James Woods and Diedrich Bader won't be back either, but a couple of those stars probably wouldn't mind a paycheck.
Honestly, when I heard there was a Surf's Up 2 in the works, I got legitimately excited. But then I saw that it had been repurposed as a vehicle for the brand of WWE and lost all interest. I'm not a wrestling fan at all, and I would have much rather seen this story played out without a gimmick like this. And since it likely won't have any of the original voice cast, it's pretty much just white noise for me now. But I might give it a shot just because I love the first one so much.
Henry Yu, the protégé of Genndy Tartakovsky and story artist on both of his Hotel Transylvania movies, will make his directorial debut on the film with a screenplay from Lottery Ticket scribe Abdul Williams. Here's hoping Yu's work with Tartakovsky makes him an animated filmmaker whose work will be worth watching. Once an official release date is available we'll let you know.