'Nina' Trailer: Zoe Saldana Takes On The High Priestess Of Soul In This Controversial Biopic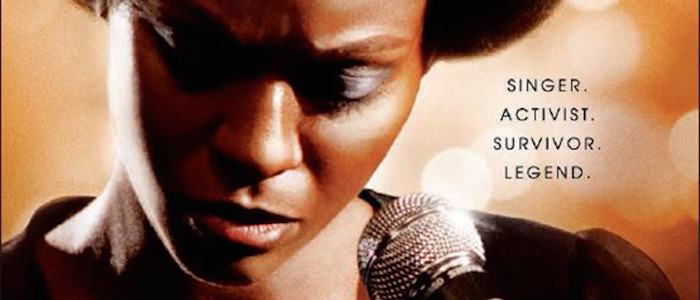 One of these days, every single musician and singer of note will get a biopic. And in 2016, it's Nina Simone's turn.
The trailer for the long-gestating Nina has arrived and it showcases everything you've come to expect from a traditional biopic, including a lead performer buried under latex and acting her butt off. We live in a post-Walk Hard world and every movie like this has to work doubly hard to be taken seriously, but the subject matter on display here looks like it could be fresh enough to overcome the usual biographical pitfalls. Maybe. Hopefully. It depends on how you feel about Simone's family not liking this film very much.
If you're not familiar with Nina Simone, here's the Cliff Notes version. Simone (who died in 2003 at the age of 70) was a singer, songwriter, pianist, and civil rights activist who recorded over 40 albums, shifting between genres like soul, R&B, jazz, and gospel. She was also unstable, prone to bouts of anger, and spent later portions of her career living abroad and battling her personal demons. The film seems to focus on her later days, particularly her relationship with her future manager, Clifton Henderson (played by Selma star David Oyelowo, who is also a producer on the film).
And it looks perfectly okay. It looks like a fairly standard biopic, albeit one that wisely chooses to focus on a unique chapter in its subject's life rather than attempt the entire life story.
However, the film has been the subject of much controversy since its inception back in 2010 (when Mary J. Blige was originally going to star). Many objected to the casting of the lighter-skinned Saldana in the role, citing Simone's constant uphill battle to achieve recognition despite her dark skin. The fact that Saldana is buried under prosthetics in the trailer certainly won't help.
And then there's the fact that Simone's daughter, Lisa Simone Kelly, objected to how writer/director Cynthia Mort depicted her mother and refused to give the production her blessing. Instead, she backed the documentary What Happened, Miss Simone?, which was nominated for Best Documentary at the 88th Academy Awards. Speaking about the dueling productions last year, kelly said:
Let's put it this way, I'm very happy that this movie [What Happened, Miss Simone?] made it across the finish line first. If a lie comes out in the movies, that goes down in history as that person's journey.
There is a larger conversation to be had here, about what responsibilities a biopic owes to its subject and whether or not it's allowed to break from reality for the sake of a better film. In any case, Nina will arrive in theaters and on VOD on April 22, 2016 and will surely stir up its fair share of additional controversy. You can also check out the poster for the film below.