'Fuller House' Will Be Back For Season 2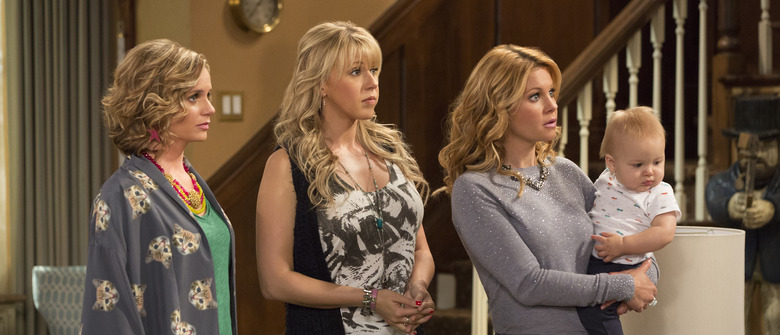 The Tanners will not cut it out. Netflix has announced that its Full House sequel Fuller House will be back for a second season in the not-too-distant future, with D.J. (Candace Cameron Bure), Stephanie (Jodie Sweetin), and Kimmy (Andrea Barber) all returning for more family fun. Which is just common sense on the Tanners' parts, really. Only a fool would abandon a gigantic painted lady in the heart of San Francisco in the year 2016. 
Netflix announced Fuller House season 2 on Twitter. The service has not yet announced a release date. But most of their series seem to put out about one season per year, so our best guess is that Fuller House will be back in 2017.
Your list will get even fuller.

Season 2. Coming soon to @Netflix. #FullerHouse 👍❤️🏠https://t.co/aEdTwbLDLM

— Fuller House (@fullerhouse) March 2, 2016
The news arrives just a few days after Fuller House season 1 hit Netflix. Although reviews were not terribly kind, even the harshest critics have tended to acknowledge that Fuller House is, for better or for worse, a pretty faithful copy of its predecessor. It might not be the sharpest or boldest family sitcom around, but if you were a fan of the show back in the day and are in the mood for some small-screen comfort food now, Fuller House might just hit the spot.
Viewership numbers for Fuller House have not been released, as is typical for Netflix shows. However, the company's eagerness to re-up suggests they've been pretty solid. The nostalgia factor helped Fuller House garner a lot of attention early on, even from people who might not otherwise be interested in an old-fashioned family sitcom. (Like myself.) Plus, the '80s and '90s kids who grew up watching the original are now old enough to have kids of their own, and Fuller House is ideal family viewing in lots of ways. It's gentle enough that it'll neither traumatize kids nor scandalize grown-ups, and simple enough that it doesn't require too much of your time or attention.