'Finding Dory' Trailer: The Forgetful Fish Tries To Remember Her Past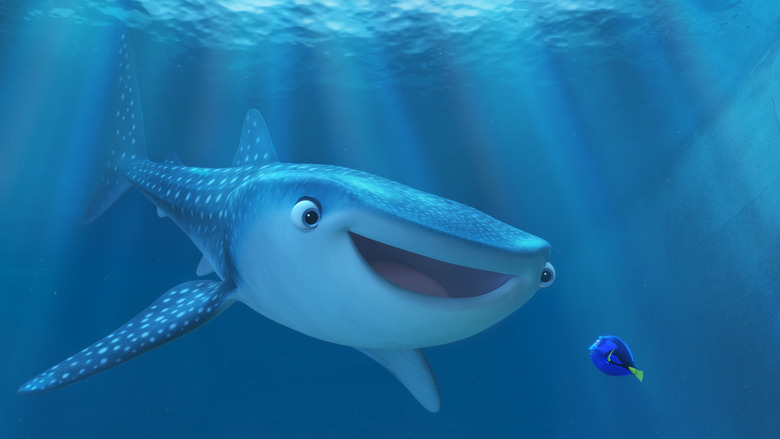 Dory's not so hot at remembering names, or faces, or much of anything, really, but the Pacific regal blue tang made an unforgettable impression in the first Finding Nemo. Her warmth, generosity, and sunny (if oblivious) optimism made her the breakout character of that movie, even more so than Marlin or Nemo himself. So, thirteen years later, she's finally getting to lead her own Pixar feature.
Finding Dory picks up a few months after the events of Finding Nemo, as Dory tries to journey back home to the family she's forgotten. Marlin and Nemo tag along for the ride, as Dory meets friends both old and new — including at least one friend who's simultaneously old and new, since we've never met her but she remembers Dory from way back. Ellen DeGeneres, who returns to voice Dory, has just unveiled the latest Finding Dory trailer online, and you can see it after the jump. 
Pixar had an up-and-down year in 2015. Inside Out was a critical and commercial smash hit, even taking home the Oscar for Best Animated Feature this past weekend. But The Good Dinosaur, which arrived several months later, was a miss. Reviews were solid, but fell short of the glowing, over-the-top praise heaped on most Pixar new releases, and box office grosses were dismal by the studio's standards. Fortunately, Pixar should face no such uncertainty in 2016. A sequel to one of their best-loved smash hits seems like a slam dunk, at least in terms of box office dollars. And while we'll have to wait and see what audiences and critics make of it, so far it looks pretty delightful.
Andrew Stanton directs Finding Dory, which also brings back Albert Brooks as Marlin. Kaitlin Olson plays Destiny the whale shark, Ty Burrell is Bailey the beluga whale, Ed O'Neill is Hank the octopus, and Diane Keaton and Eugene Levy are Dory's parents Jenny and Charlie. Finding Dory splashes into theaters June 17. Here's the very brief synopsis:
Disney•Pixar's "Finding Dory" reunites everyone's favorite forgetful blue tang, Dory, with her friends Nemo and Marlin on a search for answers about her past. What can she remember? Who are her parents? And where did she learn to speak Whale?