'The Angry Birds Movie' Trailer: Those Green Pigs Are Going To Pay For Stealing Eggs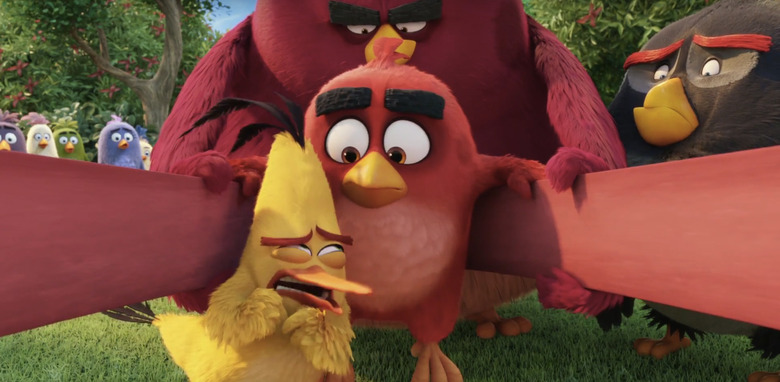 So far the trailers for The Angry Birds Movie have mostly been about Red, the character voiced by Jason Sudeikis who has a bit of an anger management problem. The green pigs and their dastardly plot to steal the eggs of our favorite mobile game fowls were featured more prominently in a recent trailer, but now a new international trailer finally shows how the war will be waged to get those eggs back. And of course, it involves slingshotting birds into the pig kingdom.
Check out the new Angry Birds Movie trailer after the jump.
Honestly, this looks much better than I thought it would. Not only does the fantastic comedic voice talent help, but there seems to be some clever writing here. There are hints of rapid, brief jokes and bits that made animated movies like Cloudy with a Chance of Meatballs and The LEGO Movie great. For example, the way that mime bird said "Oh my God" when the pigs arrived cracked me up.
Jason Sudeikis makes for a great leading character, while Josh Gad will undoubtedly supply plenty of wacky comedy with his supporting bird. But Bill Hader just might steal the movie as the pig leader. Even if those names aren't doing anything for you, the rest of the cast still includes Danny McBride, Maya Rudolph, Kate McKinnon, Tony Hale, Keegan-Michael Key, Ike Barinholtz and Peter Dinklage. That's a great cast for an animated comedy.
This is probably the best trailer yet for The Angry Birds Movie, and it would be nice if there was a solid family comedy to see this summer that entertained the kids just as much as the adults. However, I hope there's an explanation as to why certain birds have special powers. Because that's the only logistical problem I can see with a movie about talking birds and pigs.
In the 3D animated comedy, "The Angry Birds Movie," we'll finally find out why the birds are so angry. The movie takes us to an island populated entirely by happy, flightless birds – or almost entirely.  In this paradise, Red (Jason Sudeikis, "We're the Millers," "Horrible Bosses"), a bird with a temper problem, speedy Chuck (Josh Gad in his first animated role since "Frozen"), and the volatile Bomb (Danny McBride, "This is the End," "Eastbound and Down") have always been outsiders. But when the island is visited by mysterious green piggies, it's up to these unlikely outcasts to figure out what the pigs are up to.
The Angry Birds Movie arrives on May 20.