Stephen King And Nikolaj Arcel Talk 'The Dark Tower' As Production Looms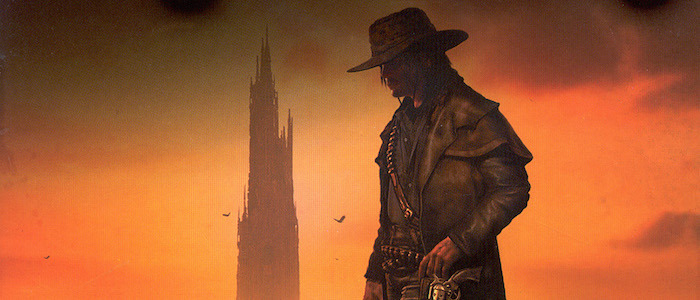 It's happening. After years of false starts and rumors and tales from development hell and being juggled between movie studios like a hot shell casing, the adaptation of Stephen King's The Dark Tower is finally and officially about to go before cameras. For real. Here's how official it is: King and director Nikolaj Arcel actually did the thing where they sit down with Entertainment Weekly and discuss the project at length. You don't do that if the film is still a pipe dream. Coffee is for closers and EW profiles are for movies that are actually getting made.
Although they obviously can't say too much, King and Arcel did discuss the film's timeline, its leading men, the possibility of a companion television series, and whether or not the most famous line of all King's canon would make it into the adaptation. It's an oasis of information.
Most importantly, the Entertainment Weekly piece confirms that The Dark Tower will begin filming in seven weeks in South Africa and that Idris Elba and Matthew McConaughey are finally and officially on board. The film currently has a planned release date of January 13, 2017.
For those who are unaware of The Dark Tower, just know this: King's seven novel "magnum opus" (eight if you include the companion book The Wind Through the Keyhole) follows Roland the gunslinger, a tortured and tormented knight-of-sorts who wanders a post-apocalyptic wasteland in search of the the structure that stands at the nexus of time and space. Although he begins his journey alone, he is eventually joined by his "Ka-Tet," men and women from other times and places who are drawn to him and become his allies. Through it all, the evil sorcerer known as The Man in Black as a dozen other names races Roland to that final destination.
It's a wild blend of science fiction, horror, fantasy, adventure, and western, somehow connecting every novel King has ever written into a fascinating multiverse. Even when it goes off the rails on occasion, it's a work of profound imagination.
And yes, the Entertainment Weekly interview does reveal that the film will begin as the first book, The Gunslinger, did, with the most famous line King ever wrote: "The man in black fled across the desert and gunslinger followed." King told EW that he pushed for this to happen:
It should start that way. I've been pretty insistent about that.
In fact, as this interview was posted, King took to Twitter to confirm the film's official green light and cast and did so with this quote, which he hasn't been shy about calling his favorite line of prose in any of his books:
It's official: The man in black fled across the desert and the gunslinger followed. #DarkTowerMovie @McConaughey @IdrisElba

— Stephen King (@StephenKing) March 1, 2016
With that piece of fan service squared away, King and Arcel took a moment to delve into certain aspects of the adaptation that may rub some fans the wrong way. Specifically, it won't be a straight forward adaptation of the first book. As King says:
[The movie] starts in media res, in the middle of the story instead of at the beginning, which may upset some of the fans a little bit, but they'll get behind it, because it is the story.
And Arel chimes in with:
A lot of it takes place in our day, in the modern world.
Are you suddenly getting Masters of the Universe vibes? After all, that ill-fated adaptation kept its budget in check by transporting most of its action out of a colorful fantasy world and into modern times as a cost-saving measure. Since the bulk of the Dark Tower series takes place in various dimensions and worlds and features robots and mutants and magic and impossible locations, this can't help but feel like a slight letdown. Then again, future sequels could widen the scope if the first film goes well.
In any case, this quote makes it sound like the first film will dive straight into the events of The Drawing of the Three and The Wastelands, the second and third books in the series that partially take place on Earth as we know it thanks to some fancy dimension-jumping. Since these are the books where the Dark Tower mythology really starts to gel, it's a decision that makes sense – the first book is all mystique and mood without much in the way of story.
The author and director also talked about the casting for the film, and despite the virulent online racism that accompanies the casting of any person of color in a role that was traditionally viewed as white (King originally envisioned Roland as Clint Eastwood back in the day), both stood by Idris Elba's casting. Because, well, it's fine casting. Other than a total racist buffoon, who could say no to Elba playing a grizzled cowboy from an alternate reality? Here's Arcel:
For me, it just clicked. He's such a formidable man. I had to go to Idris and tell him my vision for the entire journey with Roland and the ka-tet. We discussed, who is this character? What's he about? What's his quest? What's his psychology? We tried to figure out if we saw the same guy. And we absolutely had all the same ideas and thoughts. He had a unique vision for who Roland would be.
King and Arcel also spoke about Matthew McConaughey's casting as the Man in Black, a character who is not only Roland's nemesis, but the grand villain of the entire Stephen King universe, tormenting characters in The Stand and The Eyes of the Dragon. Arcel again:
He is this timeless sorcerer, and being a Stephen King fan, I've read and experienced Walter in various iterations. He has a very interesting way of seeing the world. He sees it with a sort of delight, even though he is obviously on the wrong side of the light-and-dark spectrum. He's someone I've been having a lot of fun with.
And finally, the article touches on earlier versions of this film, back from when Ron Howard was going to direct, Javier Bardem was going to star, and the film series would be accompanied by a companion television series. Although those plans fell through, King says that the success of the film series may very well revive that concept. In fact, they're intentionally omitting the flashbacks to Roland's younger days so that material can exist for a potential series:
They're still holding on to this idea that they can do a TV series, and they've got it pegged for that.
Since the fourth book, Wizards and Glass, takes place almost entirely in the past, this isn't such a crazy plan. There are many Young Roland adventures that can be told, enough to fill out a few seasons of TV.
If you want to know more (and there is a lot more), make sure you check out the full interview. In the meantime, we can just sit back and be happy that this movie is finally coming to fruition. Well, we can be happy for about five seconds before it's time to start worrying about how they could possibly screw it up. But allow yourself some rest and relaxation for now. Feel free to lose your mind when the first set photos start to arrive.
UPDATE: Idris Elba and Matthew McConaughey took to Twitter to have some fun with this news.
.@McConaughey you have one new follower. #DarkTowerMovie https://t.co/5fSKF02C7I

— Idris Elba (@idriselba) March 1, 2016
.@idriselba come and get me, I look forward to it. #DarkTowerMovie https://t.co/4gxqm2GPo3

— Matthew McConaughey (@McConaughey) March 1, 2016