Marvel Serves Up More 'Captain America: Civil War' Stills To Help You Pick A Side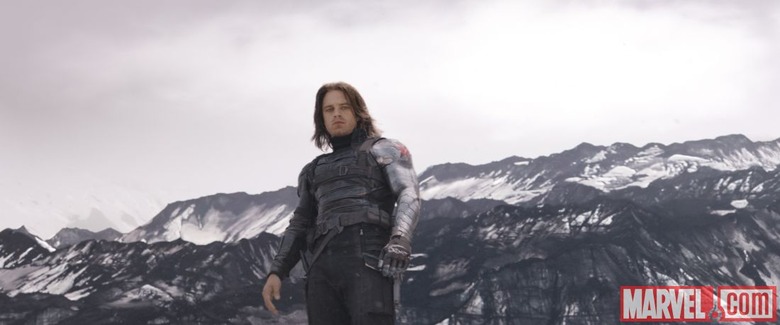 We've still got a couple months to go until Iron Man and Captain America face off in Captain America: Civil War, but sooner or later you're gonna have to pick a side. And to help you do that, Marvel's just dropped a nice big batch of high-quality photos. Will you be swayed by the hero shot of poor sad Bucky standing in the cold without a coat? Or won over by Black Widow's novel method of getting around crowded city traffic? Maybe you'll go completely unorthodox and declare yourself Team Russo Brothers, once some of the behind-the-scenes snaps remind you who's really pulling the strings around here. Check out the latest Captain America: Civil War stills after the jump. 
Marvel unveiled the latest bunch of Captain America: Civil War stills on their website. Some are behind-the-scenes photos of Chris Evans or Sebastian Stan or Scarlett Johansson chatting with the filmmakers; others are stills from the movie featuring favorite characters like Iron Man (Robert Downey Jr.) and Falcon (Anthony Mackie). And no, there's still no Spider-Man in sight.
Every Marvel movie promises to "change the Marvel universe as we know it," or words to that effect, but we've got reason to believe there are some genuinely big changes coming to the MCU with Civil War. If nothing else, we can definitely expect it to introduce some significant new players like Spider-Man (Tom Holland) and Black Panther (Chadwick Boseman), both of whom will be going off on solo adventures within the next couple of years.
It still concerns me, slightly, that Civil War seems to have so much going on. The last thing we need is another Avengers: Age of Ultron situation, where an otherwise entertaining movie sagged under the weight of a dozen major characters and half a dozen storylines, including ones carried over from earlier movies and ones intended to set up future movies. But the trailers so far have been encouragingly Captain America-centric. If the filmmakers can keep their focus on a single strong character, that should go a long way toward streamlining this complicated tale and unwieldy cast. And in the meantime, this giant roster means we get to have lots of fun arguing with our friends about whether we're Team Cap or Team Iron Man. (Even if the correct answer is obviously Team Cap. I mean, c'mon, guys.)
Marvel's "Captain America: Civil War" finds Steve Rogers leading the newly formed team of Avengers in their continued efforts to safeguard humanity. But after another incident involving the Avengers results in collateral damage, political pressure mounts to install a system of accountability, headed by a governing body to oversee and direct the team. The new status quo fractures the Avengers, resulting in two camps—one led by Steve Rogers and his desire for the Avengers to remain free to defend humanity without government interference, and the other following Tony Stark's surprising decision to support government oversight and accountability.
Marvel's "Captain America: Civil War" stars Chris Evans, Robert Downey Jr., Scarlett Johansson, Sebastian Stan, Anthony Mackie, Emily VanCamp, Don Cheadle, Jeremy Renner, Chadwick Boseman, Paul Bettany, Elizabeth Olsen, Paul Rudd and Frank Grillo, with William Hurt and Daniel Brühl.
Anthony & Joe Russo are directing with Kevin Feige producing. Louis D'Esposito, Alan Fine, Victoria Alonso, Patricia Whitcher, Nate Moore and Stan Lee are the executive producers. The screenplay is by Christopher Markus & Stephen McFeely. Get ready to pick a side and join the nonstop action playing out on two fronts when Marvel's "Captain America: Civil War" opens in U.S. theaters on May 6, 2016.