'Power Rangers' Movie Starts Production; Max Landis Worked On The Script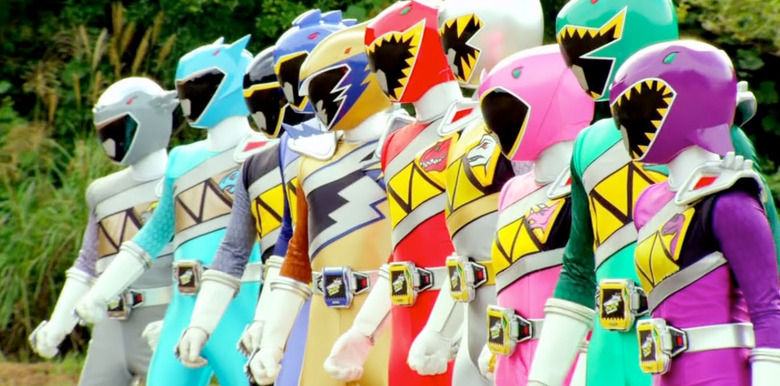 How are Power Rangers fans feeling about the upcoming reboot? I'm not a fan of the show and don't know anyone who is, including Jacob Hall, but do they like the direction this film is going in? It was certainly hard to knock casting Elizabeth Banks (Pitch Perfect 2) as the villain, considering she's Elizabeth Banks, but is this a property fans actually want to see return to the big screen?
Well, whether they do or not, this movie is happening. The Power Rangers movie starts production today, and a press release was sent out highlighting the cast and crew, including screenwriter Max Landis (Chronicle, American Ultra).
We've actually heard a good amount about Dean Israelite's (Project Almanac) reboot over the past few months. The villain, plot details, and character breakdowns made their way online, giving fans a decent idea of what to expect.
With the film just over a year away from reaching theaters, that means it's around that time for Power Rangers to start shooting.
Production has officially commenced. Here's the press release Lionsgate sent out:
SANTA MONICA, CA and VANCOUVER, British Columbia, February 29, 2016 — Lionsgate (NYSE:LGF), a premier next generation global content leader, announced that production on Saban's Power Rangers will commence today in Vancouver. The film stars Elizabeth Banks as arch-villain Rita Repulsa, along with new Power Rangers Dacre Montgomery, RJ Cyler, Naomi Scott, Becky G, and Ludi Lin. The film is a production of Lionsgate and Saban Brands.
Saban's Power Rangers follows five ordinary high school kids who must become something extraordinary when they learn that their small town of Angel Grove – and the world – is on the verge of being obliterated by an alien threat. Chosen by destiny, our heroes quickly discover that they are the only ones who can save the planet. But to do so they will have to overcome their real-life issues and band together as the Power Rangers before it is too late.
The film stars Dacre Montgomery (A Few Less Men) as Jason the Red Ranger, RJ Cyler (Me and Earl and the Dying Girl) as Billy the Blue Ranger, Naomi Scott (The 33) as Kimberly the Pink Ranger, Becky G (Empire) as Trini the Yellow Ranger, Ludi Lin (Monster Hunt) as Zack the Black Ranger, and Elizabeth Banks (Pitch Perfect, The Hunger Games franchise) as Rita Repulsa.
Directed by Dean Israelite (Project Almanac), Saban's Power Rangers is written by John Gatins (Kong: Skull Island, Real Steel), Burk Sharpless and Matt Sazama (Dracula Untold), Zack Stentz and Ashley Miller (X-Men: First Class, Thor), and Max Landis (Chronicle). Producers are Power Rangers creator Haim Saban, Brian Casentini (Power Rangers TV series), Wyck Godfrey, and Marty Bowen (The Twilight Saga, The Fault in Our Stars, The Maze Runner franchise).
Allison Shearmur (The Hunger Games franchise; Rogue One: A Star Wars Story) and Brent O'Connor (Warcraft) serve as executive producers. Brian Tyler (Avengers: Age of Ultron; Now You See Me) is the composer and Kelli Jones (Straight Outta Compton, Sons of Anarchy) is the costume designer. Set decorator is Oscar-nominated Hamish Purdy (The Revenant) and stunt coordinator is Paul Jennings (Game of Thrones, San Andreas, The Dark Knight). Weta Workshop (The Lord of the Rings, Avatar, District 9) is in charge of suit design and visual effects. Andrew Menzies (Fury, X-Men) is the production designer and Director of Photography is Matt Lloyd (Daredevil, Cop Car).
In case you didn't actually read the press release (or the headline...), here's an eye-catching fact: Max Landis worked on the script. Last summer Landis posted a cryptic tweet regarding his involvement in the project, and he described his version as "Independence Day meets The Breakfast Club." The writer also teased some ideas from his Power Rangers script on The Schmoes Movie Show:
I'm sure at some point we'll learn how much of Landis' script made it into the movie, and I'm guessing we'll find out on the screenwriter's own Twitter feed — where he's always, as some of you know, vocal about his work.
Power Rangers opens in theaters March 24th, 2017.