'Louder Than Bombs' Trailer: Jesse Eisenberg Grieves For Isabelle Huppert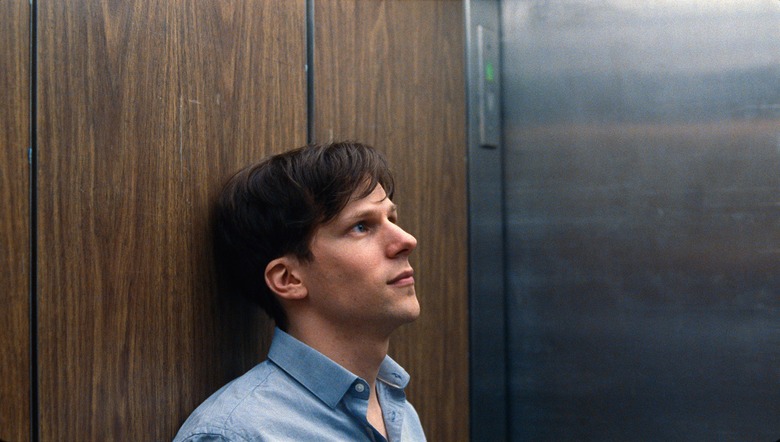 When Jesse Eisenberg was cast as Lex Luthor in Batman v Superman: Dawn of Justice, it came as a big surprise — not just because Lex is typically portrayed as older (and balder), but also because a massively budgeted superhero flick seems so far outside of Eisenberg's usual wheelhouse. You can rest assured, however, that Eisenberg isn't ditching the quieter, artsier indies he built his early career on. Just a couple weeks after Batman v Superman hits theaters comes Louder Than Bombs, an intimate portrayal of grief and love by Norwegian filmmaker Joachim Trier.
Eisenberg plays Jonah, the adult son of a war photographer (played by Isabelle Huppert) who died two years earlier in a car crash. On the eve of a career retrospective honoring his mother's work, Jonah returns home to his father (Gabriel Byrne) and teenage brother (Devin Druid). The three men continue to grapple with their loss and their fraught relationships with one another, while also dealing with the true circumstances surrounding her death. Watch the Louder Than Bombs trailer after the jump. 
Louder Than Bombs gets a limited run starting April 8 before hitting VOD July 12.
Two years after her death in a car crash, the husband and sons of famed photographer Isabelle Reed (Isabelle Huppert) are still trying to cope with their loss. Gene (Gabriel Byrne) struggles as a single parent, but is taking his first exultant steps towards a new relationship. Jonah (Jesse Eisenberg), the elder son, has just had a baby of his own and finds the transition from child to parent more than a little daunting. The younger son, Conrad (newcomer Devin Druid), is a typical teenager, wearing his alienation as a badge of honor and resisting his father's every attempt to connect. On the occasion of a major retrospective of Isabelle's work, Jonah returns home to help his father organize her effects. Once again under the same roof, all three men are flooded with memories, and secrets are unearthed—most notably the truth behind the mysterious circumstances of Isabelle's death. Shifting between past and present, and juxtaposing external reality with privileged glimpses into the interior lives of each of its four major characters, LOUDER THAN BOMBS is a stunningly intimate portrait of parents and children and the many things that tear them apart and bring them together.