LOL: 'The Revenant' Sleeping Bag For Kids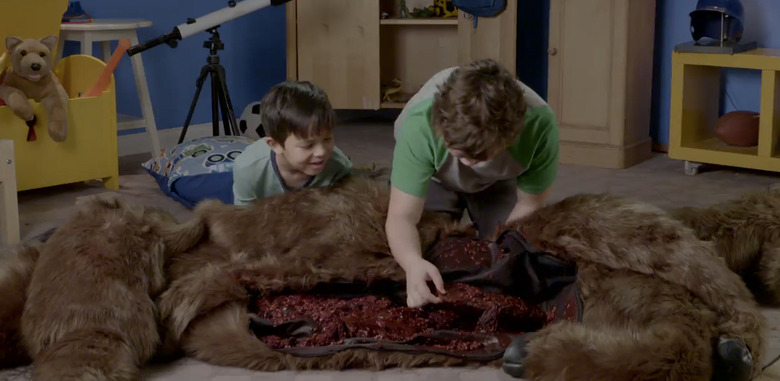 At one time the Tauntaun sleeping bag inspired by The Empire Strikes Back was just an April Fool's Day joke. But ThinkGeek got such positive response from their gag that they turned it into a real product that you can buy right now. However, we don't imagine the same thing will happen with The Revenant sleeping bag, as imagined in this advertisement put together by Funny or Die. Cutting into a Tauntaun for warmth is kinda gruesome, but it's nothing compared to getting inside a bloody, dead horse, mostly because it's a real animal. Watch!
Here's the advertisement for The Revenant sleeping bag from Funny or Die:
Easily the best feature is all the goopy gak inside that you get to play with before you go to bed. You can pretend that you're Leonardo DiCaprio, willing to work through harsh weather conditions, eating raw bison and spending years of your life chasing after a little golden man. But at least DiCaprio got his last night, and maybe now he can start having a little more fun on the big screen again. I know I wouldn't mind seeing him do a straight-up comedy, especially after seeing what he can do for laughs in The Wolf of Wall Street.
Even though The Revenant sleeping bag isn't a real product, if you're in the market for some toys that actually commemorate another violent Oscar winner this year, don't forget that The Hateful Eight action figures will be available next month. But they're very limited edition, so you better keep your ears to the ground for details on when and how to get them.