'The Jungle Book' TV Spot Keeps Mowgli On The Run, Tickets Now On Sale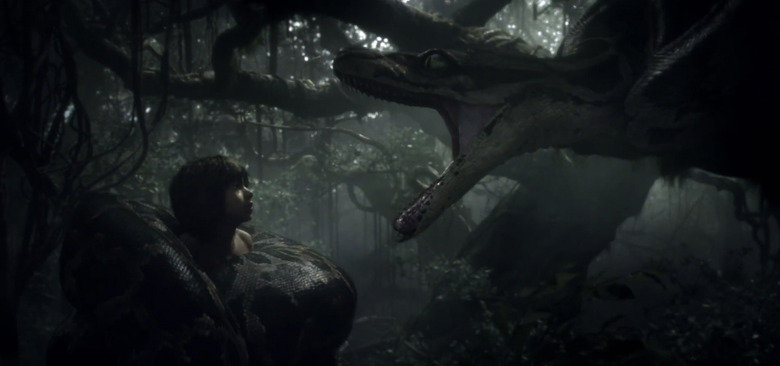 Even though The Jungle Book is over a month away, Disney seems to be anticipating quite an audience for their live-action re-telling of Rudyard Kipling's classic novel. Tickets are officially on sale for the film that features an all-star cast voicing animals brought to life entirely by visual effects. In fact, almost the entire movie is being created with the use of visual effects, not unlike Avatar or Gravity.
Now a new TV spot shows off some more of the magnificently created animals, including more dialogue from the likes of Ben Kingsley as Bagheera, Idris Elba as Shere Khan and Christopher Walken as King Louie. The more I see of this movie, the more I'm impressed and curious to see how well this tale is brought to life in this way.
Here's the new The Jungle Book TV spot straight from Disney:
If you want to know more about how impressive the visual effects are in this movie, check out Birth.Movies.Death feature after seeing some footage from the flick. The only issue seems to be that sometimes Mowgli (played by newcomver Neel Sethi) looks obviously composited into shots as opposed to seamlessly fitting in with the digital environments and animals. Hopefully that has been perfected by the time the film arrives next month.
If you want to buy tickets, you can do so right here. But if you're not convinced yet, check out the gorgeous full trailer that premiered during the Super Bowl right here.
Directed by Jon Favreau ("Chef," "Iron Man," "Elf"), based on Rudyard Kipling's timeless stories and inspired by Disney's classic animated film, "The Jungle Book" is an all-new live-action epic adventure about Mowgli (newcomer Neel Sethi), a man-cub who's been raised by a family of wolves. But Mowgli finds he is no longer welcome in the jungle when fearsome tiger Shere Khan (voice of Idris Elba), who bears the scars of Man, promises to eliminate what he sees as a threat. Urged to abandon the only home he's ever known, Mowgli embarks on a captivating journey of self-discovery, guided by panther-turned-stern mentor Bagheera (voice of Ben Kingsley), and the free-spirited bear Baloo (voice of Bill Murray). Along the way, Mowgli encounters jungle creatures who don't exactly have his best interests at heart, including Kaa (voice of Scarlett Johannsson), a python whose seductive voice and gaze hypnotizes the man-cub, and the smooth-talking King Louie (voice of Christopher Walken), who tries to coerce Mowgli into giving up the secret to the elusive and deadly red flower: fire.
The Jungle Book opens April 15.