New House Of Cards Showrunners Announced By Netflix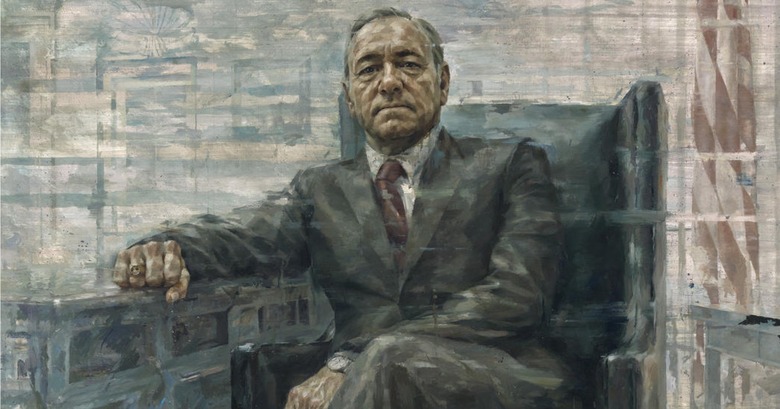 Netflix has named two new show runners for their original series House of Cards, replacing the show's creator Beau Willimon. The streaming service is promoting two of the senior writers who have been working on the show since 2014. The new House of Cards showrunners will be Melissa James Gibson (whose plays include Placebo, What Rhymes with America, This, [sic], Suitcase or, Those that Resemble Flies from a Distance and Brooklyn Bridge) and Frank Pugliese (whose theater work includes Aven'U Boys, The King of Connecticut, The Talk, The Alarm, The Democracy Project). Read the full press release, after the jump.
MELISSA JAMES GIBSON AND FRANK PUGLIESE NAMED SHOWRUNNERS FOR NETFLIX ORIGINAL SERIES, HOUSE OF CARDS
Season Four of Award-Winning Drama Launches Friday, March 4 on Netflix
Beverly Hills, CA – February 26, 2016  – Melissa James Gibson and Frank Pugliese, two senior writers who have been with House of Cards since 2014, have been promoted to showrunners of the award-winning Netflix original series, from Media Rights Capital.
"I welcome Frank and Melissa in their new roles on House of Cards and look forward to collaborating with them and our creative team on Season Five," said executive producer Kevin Spacey.  "We and the rest of the House of Cards writers look forward to the next chapter of the reign of Underwood," said Gibson and Pugliese.
Pugliese and Gibson both joined the series in its third season.
The critically acclaimed Emmy®­ nominated drama has its Golden Globe® and SAG Award winning star Kevin Spacey (as Francis Underwood) and Golden Globe®  winner Robin Wright (as Claire Underwood), whose characters have always been each other's strongest allies, showing cracks in their relationship. In an election year, the stakes are now higher than ever, and the biggest threat they face is contending with each other.
House of Cards also stars Michael Kelly, Mahershala Ali, Jayne Atkinson, Neve Campbell, Derek Cecil, Nathan Darrow, Kim Dickens, Elizabeth Marvel, Dominique McElligott, Molly Parker, Paul Sparks, with Ellen Burstyn, Cicely Tyson and Joel Kinnaman.
All 13-episodes of the show's upcoming fourth season will debut on Friday, March 4, 2016on Netflix.
Tucker Gates (Homeland, Bates Motel), Robin Wright (House of Cards), Tom Shankland (The Missing), Alex Graves (Game of Thrones, Bloodline), Kari Skogland (The Walking Dead, Penny Dreadful) and Jakob Verbruggen (The Fall, London Spy) all directed season-four episodes.
Based on the BBC miniseries of the same name, fourth season of House of Cards is executive produced by Gibson, Pugliese, David Fincher, Kevin Spacey, Eric Roth, Beau Willimon, Joshua Donen, Dana Brunetti, Andrew Davies, Michael Dobbs and Robin Wright. The one-hour drama is produced by Donen/Fincher/Roth and Trigger Street Productions, Inc. in association with Media Rights Capital for Netflix.
Melissa James Gibson's plays include Placebo, What Rhymes with America, This, [sic], Suitcase or, Those that Resemble Flies from a Distance and Brooklyn Bridge (with a song by Barbara Brousal) and have premiered at Playwrights Horizons, Soho Rep and the Atlantic Theater Company, among others. She is the recipient of honors including an OBIE Award, a Guggenheim Fellowship, the Steinberg Playwright Award, the Kesselring Prize and the Whiting Writers Award. She has taught playwriting at Princeton University and is an alumna of the Yale School of Drama. She wrote the feature film All Is Bright (Tribeca Film Festival). In addition to House of Cards, Gibson's television work includes The Americans (FX), for which she received a Writer's Guild Award nomination.
Frank Pugliese's work in theater includes Aven'U Boys (Off-Broadway, Obie Award); The King of Connecticut, The Talk, The Alarm, The Democracy Project (all with Naked Angels); The Summer Winds (NY Stage and Film); Hope is the Thing with Feathers (The Drama Dept.); KAOS (New York Stage and Film). His television credits include Homicide, for which he won a WGA Award; Law and Order; Borgias; and Copper, among others. Film credits include, Shot in the Heart, Undefeated, and the upcoming Border Crossing. Pugliese is associate professor of television writing at the Columbia University Graduate Film Department; and is the co-director of the television writing program at La Femis, in Paris. He has taught screenwriting and television writing for playwrights at the Yale School of Drama, and the New School. He is a current member and former artistic director of Naked Angels.
About Netflix
Netflix is the world"s leading Internet television network with over 75 million members in over 190 countries enjoying more than 125 million hours of TV shows and movies per day, including original series, documentaries and feature films. Members can watch as much as they want, anytime, anywhere, on nearly any Internet-connected screen. Members can play, pause and resume watching, all without commercials or commitments.