It's A Small World Movie Gets 'License To Wed' Screenwriters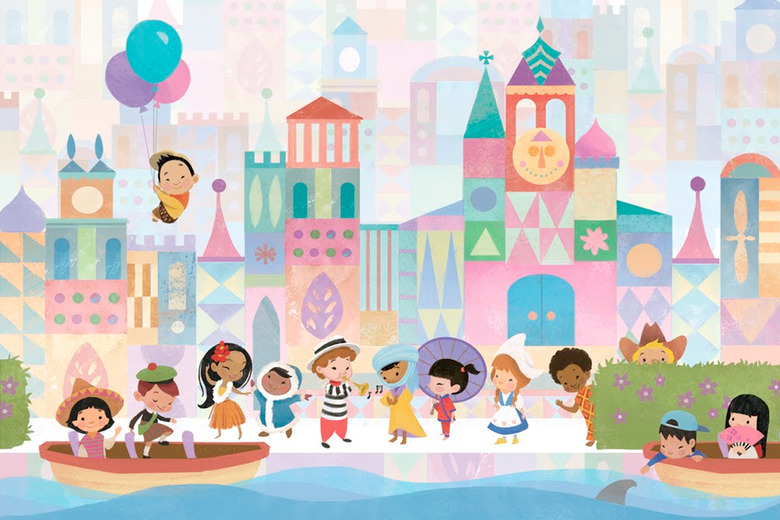 Walt Disney Pictures has hired new screenwriters to turn Walt Disney's classic ride It's A Small World into a big screen movie, but is that a good idea? Hit the jump to learn more about the Its A Small World movie adaptation and read my ridiculous Roger Rabbit meets Avengers pitch for the property.
Deadline has learned that Disney has hired screenwriting duo Tim Rasmussen & Vince Di Meglio for a movie based on the popular theme park ride It's A Small World. Rasmussen and Di Meglio have been working in the industry for a decade now, and their list of credits include License to Wed, Marmaduke and the in development Three Men and a Baby sequel Three Men and a Bride. Not a list of screen credits that bolsters confidence.
A movie adaptation of It's a Small World has been in development for the past two years with National Treasure/Sorcerer's Apprentice helmer Jon Turteltaub directing. Turteltaub's history with Disney stretches back decades. His 1992 movie 3 Ninjas was a Disney movie, as were his Cool Runnings, While You Were Sleeping, Phenomenon, Instinct, The Kid, National Treasure, National Treasure: Book of Secrets, and The Sorcerer's Apprentice. (The last three of those were produced by Bruckheimer, who's also done a lot of work with Disney.) However, his last release was the non-Disney movie Last Vegas.
The story is based on a treatment by Jared Stern, who has worked on Disney's animated movies Bolt, Wreck It Ralph, and The Princess and the Frog, as well as the live-action comedy The Internship and creating the television series Dr. Ken. Turteltaub will be producing the film alongside The Lego Movie producer Dan Lin. Pirates of the Caribbean producer Jerry Bruckheimer was previously attached to the project.
I'm not as jaded as most film geeks. I'm a Disneyland fanatic, I love the Disney brand and have been a supporter of the mouse house trying to turn some of the theme park attractions into movie franchises. But I'm not sure this particular ride offers much for an adaptation. The water-based dark ride basically features animatronic children in traditional costumes from cultures around the world, singing a song which promotes unity and the theme of global peace. Like I said, there is not much to it.
In 2008, Disney introduced 37 Disney characters into the ride, inserting each in their native land (for example, Aladdin & Jasmine are in India). Maybe this is the key to the Small World movie take? What if Disney could put together a Roger Rabbit-like movie which introduces Disney's classic animated heroes into our real world, in an Avengers-style team up to help a bunch of children from around the globe? Okay, that might be a stretch but thats the only approaching reasonable idea that comes to mind.
I know after Walt Disney died, the company attempting to bring many of the projects that Walt abandoned to the big screen in their obsession to catch some of the company founder's lost magic. This project to me feels a bit like that.
Walt Disney created the ride with his Imagineering group for the New York World's Fair in 1964. Most people know the ride because it was rebuilt for the Disney theme parks around the world. It was an innovative ride experience when it was unveiled at the fair, featuring over 300 audio-animatronic dolls from all over the world singing the now infamous (and loved or hated depending on the person) song created by Disney songwriters Robert S. Sherman and Richard B. Sherman. Unfortunately an iconic song like It's A Small World After All is enough of a brand to base a whole movie around these days. You can watch a ride through video for the attraction below: