Pamela Anderson May Appear In The 'Baywatch' Movie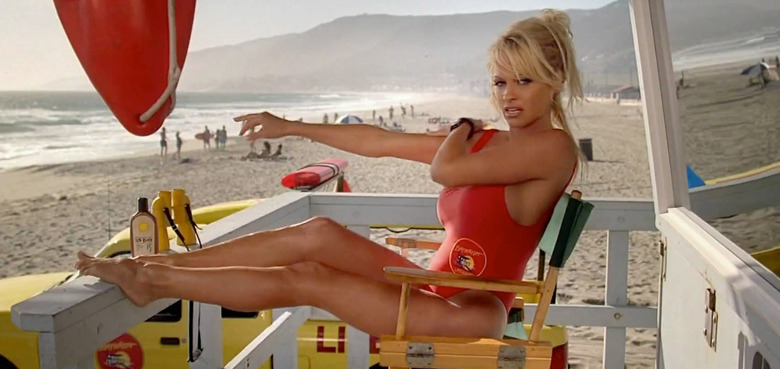 The cast of the Baywatch movie is already squared away with Dwayne Johnson and Zac Efron leading the feature comedy adaptation of the popular 90s TV series, and we just got a first look at them on the beach. The two ripped actors are also joined by some lovely ladies, including Alexandra Daddario (San Andreas), Ilfenesh Hadera (Billions), model Kelly Rohrbach (a Sports Illustrated model), and Priyanka Chopra (Quantico). And now one of the stars of the original series might be appearing in the movie as well.
Pamela Anderson was one of the biggest reasons that people tuned in to Baywatch. The series skyrocketed her to fame as one of the most desired women of the 90s, and apparently there are negotiations to get her to make an appearance. But there's a chance it may not happen. Find out what's going on with the Pamela Anderson Baywatch cameo below.
Speaking to ET Canada (via ComingSoon), Pamela Anderson was asked about whether or not she would make some sort of cameo in the R-rated comedy adaptation of Baywatch, and this is what she had to say:
"I haven't turned it down completely yet. But I have turned down what they offered me. But we'll see what happens...I haven't even read the script. I have no idea what it's about... 'Baywatch' was such a huge part of my life. And really they're trying to do an homage and you know it's an honor to have them to want me to be a part of it so bad."
So Anderson turned down something already, and now filmmakers are probably trying to figure out how else they can get her into the movie. Maybe what they wanted her to do was a little too risque? Or maybe it poked fun at her in a way that she wasn't willing to agree to?
Personally, I think it would be funny if the lifeguard crew stumbled upon Pamela Anderson and Tommy Lee at sea, if you know what I mean. However, that's probably not something that Anderson is willing to joke about. Even though that little ocean excursion the two celebrities took was featured in Borat, a film that had Pamela Anderson make a cameo, she was not part of that particular scene.
Movies like 21 Jump Street, The A-Team, Starsky & Hutch and plenty more have given the original stars cameos in film adaptations of their respective shows, so having at least a couple stars from the Baywatch series appear is a no-brainer. Really the two best options are Pamela Anderson and David Hasselhoff, and hopefully they'll both be making appearances in the movie. We'll find out on May 19, 2017 when the movie hits theaters.