Cool Stuff: Matt Ferguson's Outstanding 'Star Wars' Trilogy Posters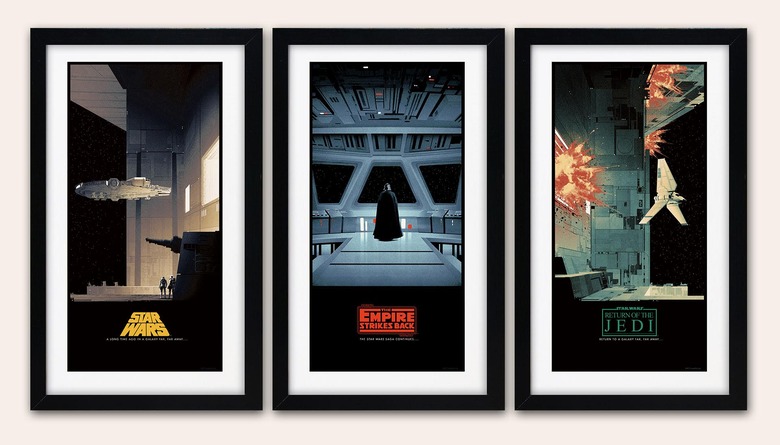 There's no shortage of Star Wars artwork hitting the web all the time. We've featured work from artists such as Tyler Stout, Olly Moss, Ken Taylor and Kevin Tong, Marko Manev and Craig Drake. Plus, just last fall we featured a new Star Wars trilogy poster from Gabz, and I'm proud to say I have one hanging up in my office. And now Matt Ferguson has delivered a new set of three prints, one for each episode of the original Star Wars trilogy, and they are absolutely magnificent.
Check out the set of Matt Ferguson Star Wars posters below.
Return of the Jedi
My favorite thing about these prints is that they don't require the usual assembly of iconic characters. Sure, Darth Vader is present in The Empire Strikes Back print, but that's only because the shot is fantastic. Plus, I don't ever remember the moment that Luke Skywalker escapes the Death Star II explosion being commemorated in artwork like this, but I could be wrong.
All of the above posters go on sale at 12pm ET today. The gold variants on the right will have a limited run of 225, but the regular color versions are a timed edition that will be on sale until February 28th at 11:59pm ET. That means the number printed will depend on how many are sold during that window, and they'll never be made available again.
All the prints measure 12x24 with the regular set costing $100 and the gold variant set costing $115. You'll be able to buy them over at Bottleneck Gallery right here.