'xXx 3: The Return Of Xander Cage' Pops Sick Wheelie Over A Rad Explosion And Lands On A Release Date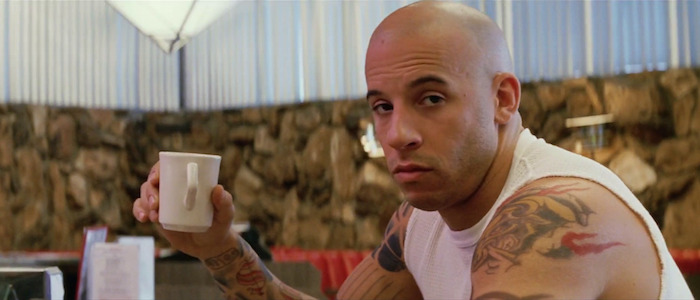 According to Hollywood lore, Vin Diesel has a genie. If you want to believe the myths and legends, the buff and bald action star was strolling along the beach one day about a decade ago when he stumbled across a mysterious lamp half-buried in the sand. He picked up this expensive-looking artifact and tried to clean it. Maybe it was worth something? Maybe he could pawn it and refill his coffers since the Fast and Furious and xXx franchises had moved on without him. These were his dark days. The Chronicles of Roddick and the Babylon A.D. days.
And then a genie came out, offered him three wishes and the rest is history. Long story short: Diesel's magically-enhanced second wind has reached maximum absurdity with the mere existence of xXx 3: The Return of Xander Cage, a movie that could only exist because a desperate man called upon the powers of a djinn. Now, this unlikely sequel has a release date and everything.
I kid because I love, but Diesel's comeback after nearly fading away in the mid-00's remains one of the more unlikely movie star tales of the past decade. Here is an actor who abandoned the two franchises that made his name, fell into a serious rut, and then somehow managed to return to both series looking like a million bucks. And then audiences were the ones acting thankful for his return. Seriously. Diesel's got friends in mystical places. How else do we explain the existence of The Last Witch Hunter?
Anyway, xXx 3: The Return of Xander Cage has been filming for a few weeks now and The Wrap's Jeff Sneider took to to Twitter to reveal that the sequel will be released on January 20, 2017.
BREAKING: Paramount to release Vin Diesel's xXx 3: THE RETURN OF XANDER CAGE on January 20, 2017.

— Jeff Sneider (@TheInSneider) February 24, 2016
And that's all we have right now. We already knew that the film is being directed by D.J. Caruso (who has previously helmed Suburbia, Eagle Eye, and I Am Number Four) and that Diesel's eclectic supporting cast includes Hollywood stalwarts like Samuel L. Jackson and Toni Collette and martial arts maestros like Donnie Yen and Tony Jaa. Although the details of the plot remain unknown, the third film in the series will retcon a DVD special feature that killed off Diesel's tattooed, extreme sports-loving secret agent after he couldn't be secured for xXx 2: State of the Union. Seriously. They actually did that.
Yes, that short does end with a villain fondling up Xander Cage's severed, flaming scalp after the unseen hero is blown to smithereens. Nope, nothing spiteful about that at all.
The question now is whether or not audiences are excited to see Diesel make a return to this character, a walking personification of early-00's X-Tremeness who was already pretty silly before the actor laying him was pushing 50. That probably explains the January release date – if audiences are going to embrace the xXx series again, they may be more willing to do so in the doldrums of January than in the middle of a busy summer.