New 'Game Of Thrones' Character Posters Really Double Down On The Whole "All Men Must Die" Thing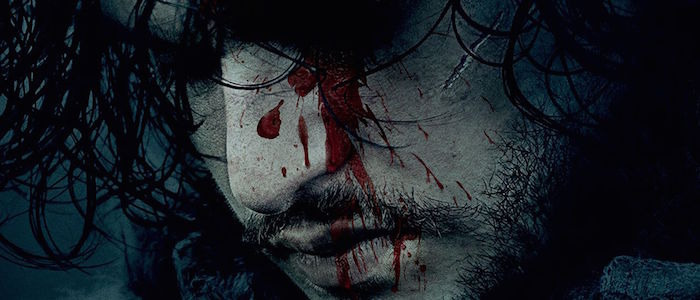 Game of Thrones season 5 may have been the weakest outing yet for HBO's flagship series, but it was still must-see TV. Even at its most inconsistent, there is nothing like this black-hearted fantasy series, which continues to pull no punches, take no prisoners, and inspire enraged think pieces on a weekly basis. Game of Thrones is just the best at being Game of Thrones, which means it is the only show doing what it is doing. And it does it well.
With the new season only two months away, the marketing has officially begun in earnest. We've already seen a teaser poster hinting at the resurrection of a certain dead Lord Commander of the Night's Watch and a creepy teaser trailer that brought us back to the macabre archives underneath the House of Black and White. Now, a new batch of character posters have arrived to remind us that no one on this show is safe, everyone is going to die, and even your favorite characters face certain doom at every turn.
Like the first trailer, these posters return to the House of Black and White, the headquarters of the "Faceless Men" who transformed Arya Stark into a ruthless killer last season. As you remember, their cavernous basement is full of faces belonging to dead men and women, identifies ready to be borrowed in service of the Many-Faced God (a.k.a. Death). The trailer made its point very clear by filling out this room with familiar, non-dead faces like Tyrion Lannister and Daenerys Targaryen – the days of the Imp and the the Queen of Dragons and everyone else you like are numbered.
HBO revealed these posters on Twitter, spreading the love amongst their various international channels. As you can see below, Jon Snow, Melisandre, Daario Naharis, Nymeria Sand, Oberyn Martell, Daenerys Targaryen, Joffrey Baratheon, Jaime Lannister, Tormund Giantsbane, Arya Stark, and Sansa Stark are among the first of what we assume will be many posters showing off the show's gigantic cast. That's a very interesting mixture of people – most of those characters are alive, but one is incredibly dead and one is supposedly dead. In fact, the inclusion of Oberyn feels like HBO sneakily trying to throw Jon Snow fans off track: "Of course he's dead! See how we also included a character who had his soul crushed into bony debris in season four?"
Game of Thrones season 6 is set to debut on April 22, 2016. So you know what that means: it's time to call your parents and make sure you still have access to their HBO Go account. Or you could adult-up and try out HBO Now. In either case, you know you're going to be watching.
#GoTSeason6#GameofThrones pic.twitter.com/F0mAqJqaW8

— Game of Thrones (@GameOfThrones) February 24, 2016
"I will be your champion." #GoTSeason6 #GameofThrones pic.twitter.com/9uoQQU8GXb

— HBO Latinoamérica (@HBOLAT) February 24, 2016
"We don't get to choose whom we love." #GoTSeason6 #GameofThrones pic.twitter.com/9mmu1ILoKT

— Game of Thrones (@GameOfThrones) February 24, 2016
"I will do what queens do. I will rule." #GoTSeason6 #GameofThrones pic.twitter.com/cI5onqH1Pk

— Game of Thrones (@GameOfThrones) February 24, 2016