'Maggie's Plan' Trailer: Greta Gerwig Isn't So Sure About Ethan Hawke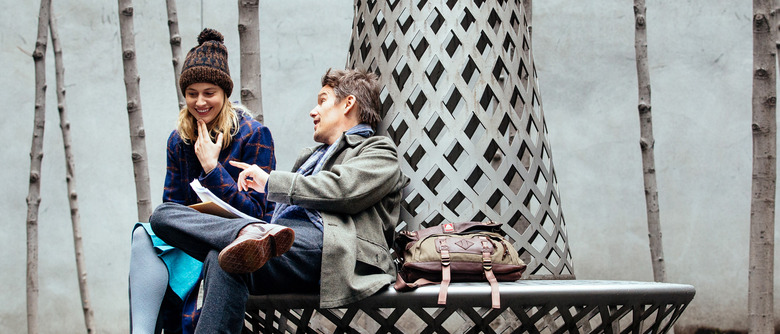 It's no secret that love has a way of complicating things, both in the movies and in life, but Maggie's Plan takes these complications to the next level. Greta Gerwig stars as Maggie, a 30something New Yorker who's decided the time is right for her to try and get pregnant on her own. Then she meets and falls for a professor named John (Ethan Hawke), who's unhappily married to Georgette (Julianne Moore), and all of Maggie's plans go out the window.
The Rebecca Miller-directed comedy has been making the rounds on the festival circuit for the past several months, and now it's finally on its way into theaters. Watch the first Maggie's Plan trailer after the jump. 
Entertainment Weekly premiered the first Maggie's Plan trailer.
The Maggie's Plan trailer seems to show kind of a lot, no? I haven't actually seen the movie, so for all I know this is all stuff covered in the first 20 minutes. But it feels like a lot of plot to reveal in a trailer that's intended to get audiences to get to the theater and find out what happens. Then again, Maggie's plan to reunite John and Georgette is what separates Maggie's Plan from a dozen other indie romcoms about stuffy New York intellectuals falling in and out of love, so maybe it makes sense for Sony Classics' marketing team to play up that aspect of the movie.
Leaving that aside, Maggie's Plan looks like fun stuff. Saturday Night Live vets Bill Hader and Maya Rudolph are on hand to comment on the proceedings, though they're comparatively toned down. Gerwig continues to show why she's the reigning queen of indies, while Hawke gets to play another one of those attractive yet slightly off-putting men who can't quite seem to grow up. And Moore's slightly terrifying intellectual has shades of Maude Lebowski, albeit with a much thicker accent.
Maggie's Plan opens May 20, 2016.