Edgar Wright's 'Baby Driver' Picks Up Jon Bernthal; More Plot Details Revealed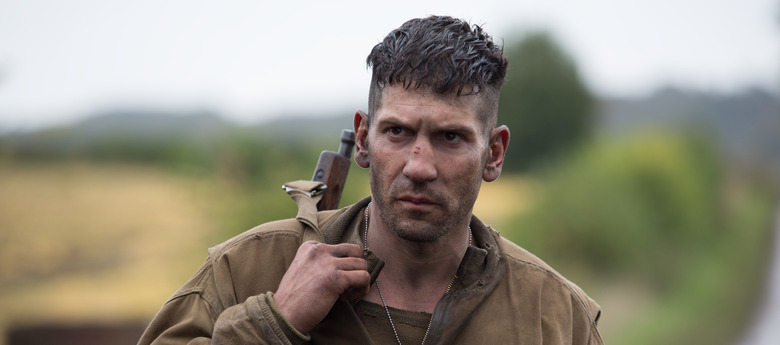 Edgar Wright's name alone is enough to get us interested in any project he's involved with, but it certainly doesn't hurt when he pulls together a fantastic cast to help bring his vision to life. Shooting on his latest, Baby Driver, is already underway with Ansel Elgort, Lily James, Kevin Spacey, Jon Hamm, Jamie Foxx, and Eiza Gonzalez, and now it's pulling over to pick up one more: Jon Bernthal, whom we're about to see as the Punisher in Daredevil season 2.
And while Baby Driver has remained somewhat mysterious up to this point, a whole bunch of new details have surfaced about the characters in the film. More on the Baby Driver Jon Bernthal casting and the latest Baby Driver plot details below. 
Deadline has the latest Baby Driver plot details. Elgort plays Baby, who as we already knew is a talented young getaway driver. Nearly mute and suffering from a condition that leaves a constant ringing in his ears, Baby relies on the beat of his personal soundtrack to drown out the noise so he can perform his best. Baby's entire world is threatened when a crime boss known as Doc (Spacey) forces him to take part in a doomed heist.
Doc's other employees include Buddy (Hamm), a "handsome party animal"; Darling (Gonzalez), "Buddy's lawless and scandalous girlfriend and partner in crime"; and Bats (Foxx), an "impulsive gun-slinging cohort." And Baby's lady love is Deborah, an innocent diner waitress. Bernthal has a "key role" as a character called Griff, but no other details have been revealed about him so far.
Bernthal broke through in a big way as Shane Walsh on the first two seasons of The Walking Dead. Since leaving that show, he's racked up an impressive array of film and TV credits including roles in movies like The Wolf of Wall Street, Fury, and Sicario, and shows like Mob City, Show Me a Hero, and of course the upcoming second season of Daredevil. There's even been speculation that Bernthal could get his own Punisher spinoff, though exec producer Jeph Loeb has cautioned that such talk is premature.
Wright is directing Baby Driver from his own script. The film is produced by Wright's regular collaborators including Working Title's Eric Fellner and Tim Bevan and Big Talk Productions' Nira Park. Baby Driver started filming this month in Atlanta. It'll open March 17, 2017.