Force Awakens Bits: Marvel Comic Adaptation, Behind-The-Scenes With John Williams, And Cool Art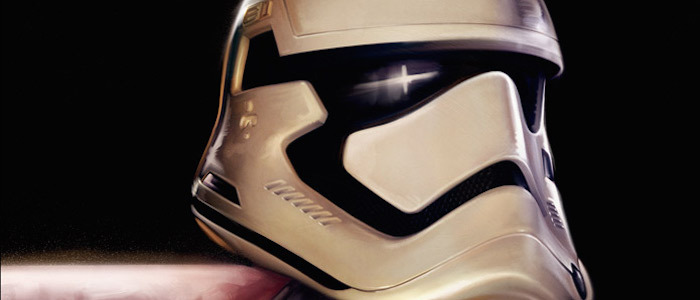 I squeezed in another viewing of Star Wars: The Force Awakens last night and guess what? It's still good! Anyway, in today's edition of The Force Awakens Bits:
Marvel will publish a comic book adaptation of The Force Awakens.
Potential The Force Awakens Blu-ray details emerge.
BBC goes behind the scenes of ILM's London branch.
Sphero reveals their coolest new accessory.
Patrick Ballesteros creates the cutest Star Wars art yet.
The Force Awakens MAFEX figures are on the way.
John Williams takes you inside his process.
Brian Rood has some stunning Star Wars art for sale.
And more!
Marvel has announced that they will be publishing a five issue adaptation of The Force Awakens. Novelist Chuck Wendig, who recently penned the novel Star Wars: Aftermath (the first book set in the new post-Return of the Jedi canon) will script and Marvel veteran Luke Ross will provide the art. The comic is expected to arrive in June, but in the meantime, you can check out some of of Ross' character sketches above.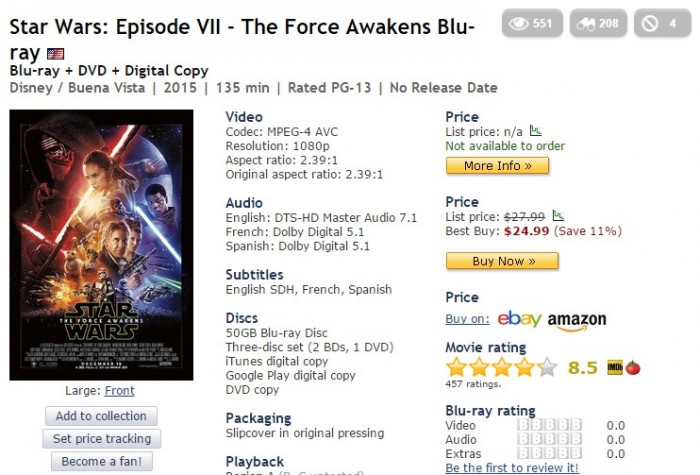 Lucasfilm has yet to announce the details of the upcoming Blu-ray release of The Force Awakens (which is supposedly going to arrive in April), but an interesting detail may have arrived online by accident. Jedi News noted that Blu-Ray.com updated their page on the upcoming release to reflect a 3-disc package: two Blu-ray discs and one DVD. The page has since been changed (it now lists only one Blu-ray disc and one DVD), but this is your chance to ponder what's going on here. Was this an innocent mistake or will there be multiple versions available, including a special edition with enough bonus features to warrant a third disc?
The BBC's Spencer Kelly went behind the scenes of ILM's London branch (which worked on 400 special effects shots in The Force Awakens) and came back with this cool little video. Much of this material is familiar, but Star Wars News Net noticed a physical model of Supreme Leader Snoke in the background of one shot, giving us another new look at Andy Serkis mysterious and hideously scarred villain.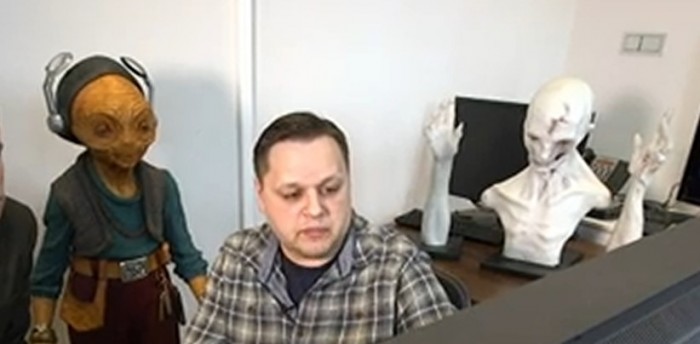 The Force Awakens co-producer Ben Rosenblatt recently spoke at the Hollywood Professional Association Tech Retreat, answering questions about the film's production and release. When asked about the ending of the film, he confirmed that that the final shot of Rey and Luke was shot from a helicopter and that the decision to end there was dictated by John Williams' score. He added that the conclusion  "left you with this sweeping emotional epic [feel], and you're going to see a lot of that in Episode VIII." When asked to comment on the visual style of the film and whether J.J. Abrams tried to emulate George Lucas' original style, he said "It was J.J., but J.J. was honoring George's original vision. ... But J.J. brought his own visual language to the film." So there you go.
A few weeks ago, we learned that Sphero was introducing the "Force Band" accessory that would allow you to introduce your remote controlled BB-8 toy using hand gestures. Now, the video above offers us a look at this thing in action. Here's the official description of this nifty gadget:
Introducing the Star Wars Force Band™ by Sphero. Like a true Jedi, you can now control your BB-8™ App-Enabled Droid™ with just a wave of your hand. Designed with an authentic Star Wars look and feel, the Force Band attaches to your wrist and allows you to use authentic Jedi Force gestures to operate BB-8.
Learn to control your Droid by mastering moves like Force push, pull, and drive. BB-8 will even follow you around based on the motion of your arm and the direction your body moves. Unlock new ways to play with BB-8 and train yourself in the ways of the Jedi with sounds, vibrations, and LED lights built right into the band.
The Force Band is compatible with BB-8 by Sphero, the adorable Droid that brought the magic of Star Wars: The Force Awakens™ into your home. Fulfill your destiny and become a Jedi Master. May the Force will be with you...always.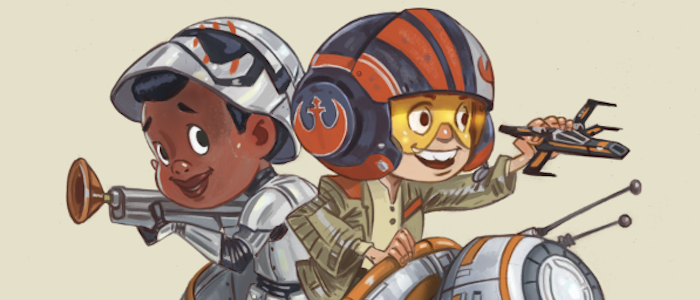 There's a lot of adorable Star Wars art floating around the internet these days, but Patrick Ballesteros may have just topped them all. His "25 Cent Wonders" series recreates iconic pop culture characters as children having a good time in those in this old-fashioned, coin-operated vehicles that used to sit in front of grocery stores. Now, he's added the cast of The Force Awakens to the series and you can order them for $8 a pop. And you can't just buy one, right?
While we're on the subject of wonderful Star Wars art, Brian Rood has revealed two new pieces inspired by The Empire Strikes Back and The Force Awakens and they're stunning. They're also going to set you back a pretty penny: "He Knew" can be ordered for $350 and and "First Order Stormtrooper" can be yours for $425.
Medicom Toys has announced a new run of 1:12 MAFEX action figures based on the characters from The Force Awakens and they're pretty darn cool. The first available characters will be C-3PO, BB-8, Captain Phasma, and Kylo Ren, but you just know more will be on the way soon. You can peruse the gallery below or hit the link above to check out a few additional images.
It's not often that you get to see a legitimate genius at work, so this new video featurette on John Williams is a real treat. Williams is, of course, one of the greatest composers to ever work in the movies and his score for The Force Awakens is currently up for an Academy Award. These three minutes are very worthy of your time...if you think you'll enjoy watching one of the greatest artists in film history explain his process. And of course you think that.