Ava DuVernay Will Direct Disney's 'A Wrinkle In Time'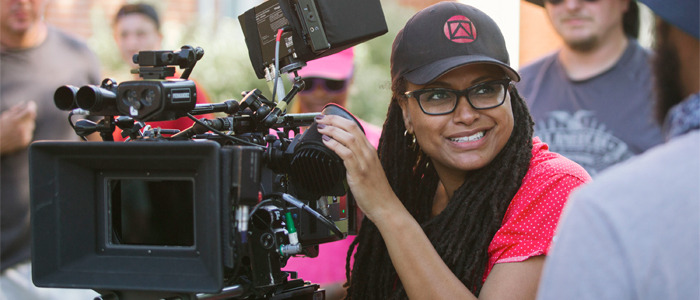 For a brief spell in 2015, it looked like Ava DuVernay could join the Marvel Cinematic Universe. She was looking for a follow-up to Selma, Marvel Studios was looking for a black director to make Black Panther, and the two sides sat down to see if they could work something out. Unfortunately, they couldn't (the job eventually went to Creed's Ryan Coogler, another excellent choice), but now Disney's found another way to bring her into the greater Mouse House family.
DuVernay has been set to direct the science fantasy adventure A Wrinkle in Time, based on Madeleine L'Engle's beloved 1963 novel. The project has a script by Jennifer Lee, the screenwriter and co-director of Frozen. 
Deadline reports DuVernay has closed her deal to direct Disney's A Wrinkle in Time, a few weeks after we first heard she was in talks and six months after Disney started trying to woo her. The Wrinkle in Time movie has been in development at Disney since about 2010, and Lee was tapped to script in 2104. According to Variety, Lee's take on A Wrinkle in Time "emphasizes a strong female-driven narrative and creatively approaches the science fiction and world-building elements of the book."
Here's a brief book jacket synopsis of L'Engle's novel:
It was a dark and stormy night; Meg Murry, her small brother Charles Wallace, and her mother had come down to the kitchen for a midnight snack when they were upset by the arrival of a most disturbing stranger.
"Wild nights are my glory," the unearthly stranger told them. "I just got caught in a downdraft and blown off course. Let me sit down for a moment, and then I'll be on my way. Speaking of ways, by the way, there is such a thing as a tesseract."
A tesseract (in case the reader doesn't know) is a wrinkle in time. To tell more would rob the reader of the enjoyment of Miss L'Engle's unusual book. A Wrinkle in Time, winner of the Newbery Medal in 1963, is the story of the adventures in space and time of Meg, Charles Wallace, and Calvin O'Keefe (athlete, student, and one of the most popular boys in high school). They are in search of Meg's father, a scientist who disappeared while engaged in secret work for the government on the tesseract problem.
A Wrinkle in Time was previously adapted by Disney into a 2004 movie that no one — not fans, not critics, not regular TV viewers, and definitely not L'Engle — seemed to like very much. The author sniffed that it "met expectations," in that "I expected it to be bad, and it is." So while DuVernay's got huge expectations to live up to, she can probably rest assured that anything she turns in is bound to be better received than that earlier project.
A former publicist, DuVernay began her directing career with a couple of small indies including the Sundance prize-winner Middle of Nowhere. Then she took on the $20 million drama Selma, which was nominated for Best Picture and made DuVernay one of the hottest directors in town. A Wrinkle in Time will be a big change of pace for her. Not only does it sound like a much pricier, more high-profile project, it'll be her first time working in the fantasy genre.
But DuVernay's clearly open to branching out. Besides A Wrinkle in Time and her flirtation with Black Panther, she's also been in negotiations for the sci-fi thriller Intelligent Life at DreamWorks. That one has Lupita Nyong'o attached to star, and boasts a script by Colin Trevorrow and Derek Connolly. Her deal for A Wrinkle in Time doesn't necessarily prevent her from doing Intelligent Life, but if she decides to do both it's unclear which project will move first.