'Metroid' Movie: Would You Want To See Ronda Rousey As Samus Aran?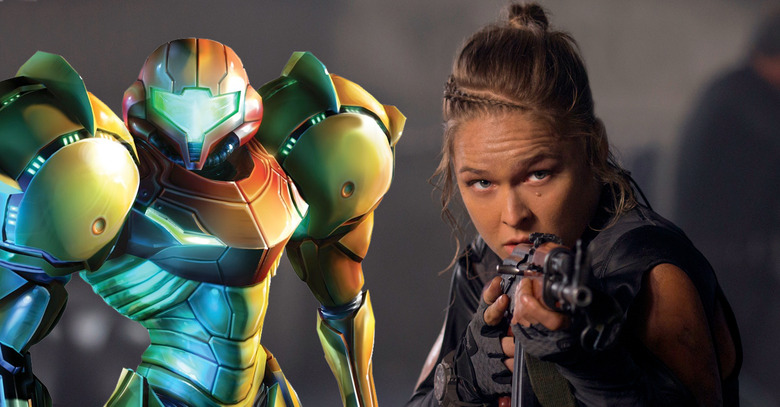 Last August, Nintendo announced that they were exploring the possibility of turning some of their video game properties into feature films. The company was turned off of the idea of adapting their video games into movies after the disaster that was Super Mario Bros. back in 1993, but over 20 years later, Nintendo's creative mastermind Shigeru Miyamoto said:
"As we look more broadly at what is Nintendo's role as an entertainment company, we're starting to think more and more about how movies can fit in with that—and we'll potentially be looking at things like movies in the future."
We haven't heard of any development on specific properties heading to the big screen, but if UFC champion turned actress Ronda Rousey had the opportunity, she would love to bring bounty hunter Samus Aran to life in a Metroid movie.
Ronda Rousey is known to be quite the gamer, including an obsession with Pokemon, so she was talking with Gamespot about a few nerdy things, and that's when her desire to star in a Metroid movie came up:
"I've always wanted to be Samus. That would be badass. I love how people found out later that it was a hot chick on the inside. And then most of the day you're in a suit, so you can just hang out and eat donuts and be the star of Metroid. I hope they make a movie out of that."
As a kid, I remember having my mind blown when I found out that the person inside of that Iron Man-esque weaponized suit was a woman. However, I don't entirely understand Rousey's perspective on how she can just eat donuts because she's in the suit. Maybe that would be the case if the suit was partially added with visual effects, which is something that is done in the Iron Man movies. But if the suit was real, then Rousey would definitely have to stay in shape so that the suit would fit throughout production. So I can't imagine many donuts in her future if that were the cast. Anyway, that's not important.
The role of Samus Aran is undoubtedly an important one for fans of the video game franchise, and while Rousey is certainly a tough enough woman to make the role work, her acting skills will likely have fans hoping that this casting doesn't come true. Rousey has proven to be charming as a personality outside of her fighting career, but she would really need to develop those acting chops to take on an important lead role like this.
There's a chance that Rousey might get better in that department though, because she'll have the lead role in the upcoming remake of Road House, not to mention starring in the movie about her life, based on her own autobiography My Fight/Your Fight. I would love to see someone has affable as Rousey blossom into a respectable, talented actress.
As of now, there's no indication that a Metroid movie is even a possibility anytime soon, so this is just a dream of Rousey's, much like playing Captain Marvel for Marvel Studios. But if the opportunity presented itself, would you like to see the fighter take on the role of Samus Aran? Let us know in the comments. And in the meantime, check out this fantastic Metroid short film to hold you over.