New 'Triple 9' Clips Sell A Slovenly Woody Harrelson, A Russian Kate Winslet, And Other Wonders Of The World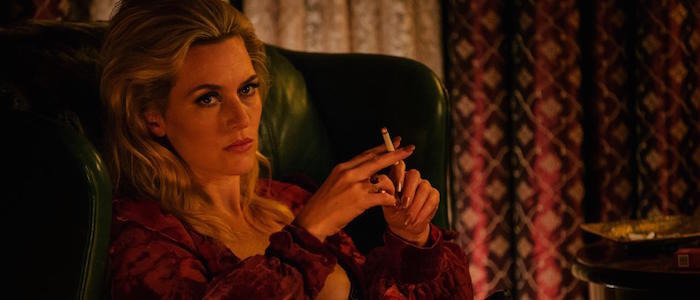 On paper, Triple 9 sounds like familiar territory, another story of corrupt cops butting heads with police officers and crooks alike. But if you place John Hillcoat in the director's chair, I'm suddenly very interested. And if you then place Casey Affleck, Woody Harrelson, Chiwetel Ejiofor, Kate Winslet, Anthony Mackie, Norman Reedus, Gal Gadot, and Aaron Paul in front of the camera, you've just sold a ticket.
A new batch of Triple 9 clips have arrived on the the heels of those very intense trailers and posters, just in case you need some additional convincing that a crime film with that line-up deserves to be on your radar. Whether it's ultimately good or bad remains to be seen, but there's no way this movie is boring.
The first newly released video calls itself a trailer, but it's actually a featurette, showcasing scenes from the movie while actors jabber on about good the movie is. You know, the usual. The most exciting thing about all of this is seeing the goddess that is Kate Winslet playing a trashy Russian mobster and the great Woody Harrelson get to play the Loud Abrasive Detective Who Has Seen It All. Winslet's hair looks like reason alone to check this film out.
While that cast is certainly impressive, the real draw remains Hillcoat, a fascinating filmmaker who has never met a grimy underbelly he hasn't wanted to explore. His anti-western The Proposition is a modern classic, his cinematic take on Cormac McCarthy's The Road is the unflinching (and totally un-fun) adaptation the novel deserves, and Lawless is just a really good, really nasty time at the movies. Triple 9 looks like the most conventional film he's made thus far, but every filmmaker is allowed a lark or two.
Here is the official synopsis for the film:
When a crew of dirty cops is blackmailed by the Russian mob to execute a virtually impossible heist, they realize the only way to pull it off is to manufacture a 999, police code for "officer down". The chaos that ensues when a police officer is shot in the line of duty is just the diversion they'll need to do the job, but whether they have the will to kill one of their own is an entirely different matter. Their plan is turned upside down when the unsuspecting rookie they set up to die foils the attack, triggering a breakneck, action packed finale tangled with double-crosses, greed and revenge.
Triple 9 opens on February 26, 2016. You can watch those five clips below.