'Death Note' Producer Promises All Of You Bloodthirsty Maniacs An R-Rating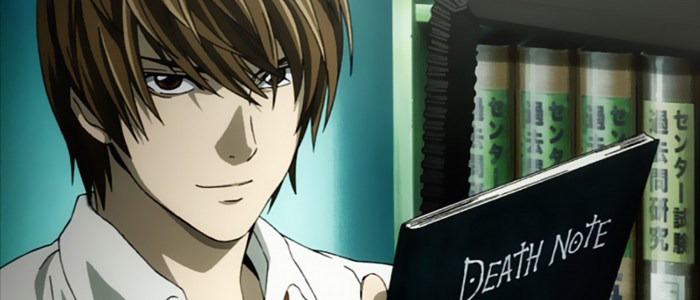 A Hollywood adaptation of the popular manga Death Note has been in the works for some time, with Shane Black announced to direct back in 2011. Since then, Black has dropped out, You're Next director Adam Wingard stepped in, and a cast has started to take shape. It's happening. For real this time! Maybe. Hopefully?
Anyway, a new interview with producer Roy Lee has offered a few updates on the American adaptation of Tsugumi Ohba and Takeshi Obata and fans should be happy to know that they don't plan to tone this macabre story down.
The news comes our way via Collider, who sat down with Lee at DICE 2016 (where they also received updates on the stalled adaptation of The Stand and the soon-to-shoot two movie adaptation of It). Lee says that Death Note still hasn't officially received the green light, but the pieces are falling into place behind the scenes and they plan to shoot later this year. But most importantly:
It's definitely for adults. It is zero chance it will be below an R-rating.
So there you go. Although I'm not familiar with the original Death Note manga, the premise sounds like bleak enough to warrant that kind of treatment. Unless the movie makes big deviations from its source, it should still follow a young man who comes across a notebook that kills anyone whose name is written in it. Naturally, he uses this power as part of an attempt to make the world a better place and incurs the wrath of a dedicated police detective. Lee says that the film "will be one of the first manga adaptations that feels very grounded but still has fantastical elements."
Although I know little of Death Note beyond the basic plot description, I am familiar with the work of Adam Wingard, a filmmaker who has grown by leaps and bounds with each of his features. Watching the evolution from the rough but passionate A Horrible Way to Die to the slick, blackly comic chills of You're Next was a real treat. 2014's criminally undervalued The Guest saw him firing on cylinders, creating a near-perfect thriller that used action movie tropes to inject life into the horror movie slasher template. He just directed the pilot episode for Cinemax's Outcast and is lined up to direct an American remake of the incredible South Korean film I Saw the Devil. That he's keeping busy is a good sign – it would be a shame to waste Wingard's talents.
If Death Note really is going to shoot this year, then we should start hearing more details soon enough.