'The X-Files' Prequel Novels Will Follow A Young Mulder And Scully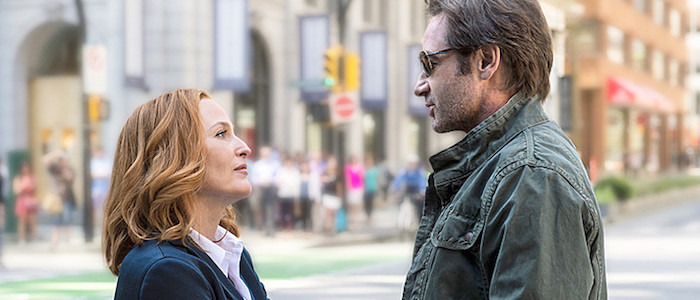 The basic history of FBI special agents Fox Mulder and Dana Scully was doled out on a need-to-know basis throughout the original run of The X-Files. She was a promising medical medical doctor from a military family who was recruited into the bureau straight out of college. He was a normal-enough kid whose entire existence was turned upside down when his sister was apparently abducted by aliens. Anything beyond that was not necessary to enjoy watching them travel the country, solving supernatural mysteries.
But since the revival of this iconic show (which got significantly better after I reviewed the first two episodes) has attracted massive audiences, The X-Files is journeying into territory that every major genre series eventually passes through. Yep, it's time for a prequel. In young adult book form. Called The X-Files Origins.
The X-Files Origins, which is being published by Imprint/Macmillan Children's Publishing Group, is getting started with two YA novels: Agent of Chaos, which follows a 17-year old Mulder, and Devil's Advocate, which follows a 15-year old Scully. Entertainment Weekly has the details on this new series, including a taste of what it will actually be about:
[E]ach story is set in the spring of 1979, when serial murder, the occult, and government conspiracy were highlighted in the news. The books follow Mulder and Scully as they experience life-changing events that set them on the path to becoming the FBI agents depicted in by David Duchovny and Gillian Anderson on the cult-favorite TV show The X-Files.
Agent of Chaos will be written by Kami Garcia, author of Beautiful Creatures and Dangerous Creatures. Devil's Advocate will be written by Jonathan Maberry, author of Assassin's Code and Dead of Night. Both books are set to arrive on shelves in January 2017.
With the X-Files revival a success and more Mulder and Scully adventures surely on the way, the intention here is obvious: hook the younger folks who are interested in The X-Files...and maybe sell more than a few books to older fans who will read anything featuring these two beloved characters. Even if they're kids. And aren't actually solving X-Files. And aren't actually working together, which is half of the fun of the original series.
To be fair, there are definitely some obvious Mulder stories to tell. After all, the man joined the FBI believing in paranormal phenomena and dedicated his career to the subject. It's entirely possible that he saw some pretty crazy stuff between his sister's abduction and his years working for the federal government. Scully seems trickier, especially because the whole point of her character is that she's skeptic who is partnered up with Mulder because she's level-headed and has had a fairly normal, practical existence up to that point.
But if you wanted proof that The X-Files was officially and truly back and doesn't plan to leave anytime soon, here you go. Could that third movie be far behind at this point?