'Captain America: Civil War': Martin Freeman's Role Confirmed, New Images Revealed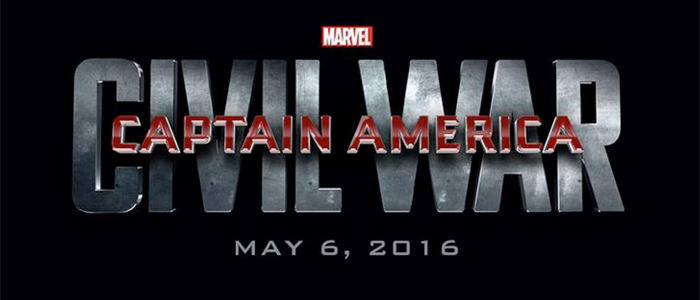 Captain America: Civil War brings back what feels like every MCU character we've ever met (save Thor and Hulk, who'll be off on their own buddy adventure next fall). But it also introduces a bunch of new ones, some of whom are more mysterious than others. One that's been a big fat question mark up to this point is the government agent played by Martin Freeman. We've already seen him in the trailers, but it's only now that we finally have confirmation on whom he's playing. As it turns out, one of those fan theories was very much on the money.
Elsewhere, we've also got new looks at Frank Grillo's Brock Rumlow in full Crossbones gear, and Elizabeth Olsen's Scarlet Witch in action amid what looks like some serious destruction. There's also another photo of Chris Evans' Captain America and Robert Downey Jr.'s Iron Man staring intensely at each other, in case you need more fanfic fodder. See photos of the Civil War Martin Freeman character and more below. 
Empire reports Freeman is playing Everett Ross, part of the Joint Counter Terrorist Centre. Specifically, he's the U.S. government's liaison to Wakanda, the fictional African country that Black Panther calls home. Yup, this almost certainly means he'll appear alongside Chadwick Boseman and Andy Serkis in 2018's Black Panther standalone. Here's Everett Ross with Sharon Carter (Emily VanCamp), whom you may remember from Captain America: The Winter Soldier.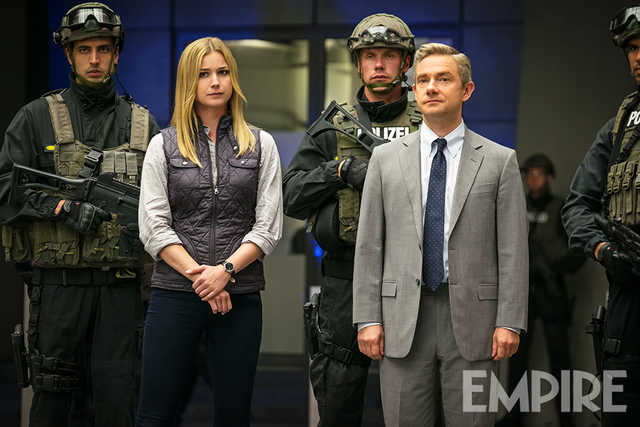 Freeman previously dropped some hints about his morally ambiguous character.
He works for the American government. He works in conjunction with the superheroes, and certain agencies that help to tame the superheroes' power, I suppose. So you're not quite sure which side he's on. It looks a little bit like he's playing one game when actually he's playing another. It's the kind of character I like because it's ambiguous and because you don't know whether he's good or bad. I like that area that isn't black or white, I like the grays, because I think there's just more fun to be had in not playing one obvious line.
Moving on, Empire also unveiled new photos of Cap, Iron Man, Crossbones, and Scarlet Witch.
It's hard to say which costume looks less practical for combat: Crossbones' armor, which looks like it weighs about a thousand pounds, or Scarlet Witch's corset and leather pants combo. But they both look cool, which is really the important part. If we can suspend our disbelief and accept that supersoldiers, aliens, and literal gods walk among us, it should be easy enough to buy that Scarlet Witch can fight in that thing without running out of breath.
Directed by Joe and Anthony Russo, Captain America: Civil War arrives May 6.
Marvel's "Captain America: Civil War" finds Steve Rogers leading the newly formed team of Avengers in their continued efforts to safeguard humanity. But after another incident involving the Avengers results in collateral damage, political pressure mounts to install a system of accountability, headed by a governing body to oversee and direct the team. The new status quo fractures the Avengers, resulting in two camps—one led by Steve Rogers and his desire for the Avengers to remain free to defend humanity without government interference, and the other following Tony Stark's surprising decision to support government oversight and accountability.
Marvel's "Captain America: Civil War" stars Chris Evans, Robert Downey Jr., Scarlett Johansson, Sebastian Stan, Anthony Mackie, Emily VanCamp, Don Cheadle, Jeremy Renner, Chadwick Boseman, Paul Bettany, Elizabeth Olsen, Paul Rudd and Frank Grillo, with William Hurt and Daniel Brühl.
Anthony & Joe Russo are directing with Kevin Feige producing. Louis D'Esposito, Alan Fine, Victoria Alonso, Patricia Whitcher, Nate Moore and Stan Lee are the executive producers. The screenplay is by Christopher Markus & Stephen McFeely. Get ready to pick a side and join the nonstop action playing out on two fronts when Marvel's "Captain America: Civil War" opens in U.S. theaters on May 6, 2016.