Watch: Aidy Bryant's Short Film 'Darby Forever' Is The Perfect Antidote To Those Monday Morning Blues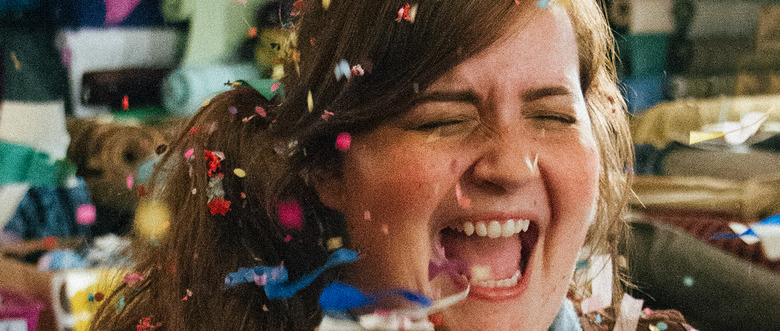 Ugh, Mondays, right? It doesn't matter if you actually love your job — the start of the work week can be rough. Here you are, coming off of two glorious days of fun and relaxation and freedom, and now it's time to put all that out of your head and get back to the grind. It's so tempting to sit back in that cubicle and just let your mind wander, trying to hold on to that warm weekend feeling just a little while longer.
All of which makes Monday morning kind of the perfect time to check out the delightful short film Darby Forever. Saturday Night Live's Aidy Bryant plays the title character, an unassuming fabric store employee who passes time by escaping into colorful fantasies. It's the perfect antidote to your workday blues, and it runs about 20 minutes long which means it'll bring you about 20 minutes closer to the end of your day. Retta, Natasha Lyonne, and Luka Jones also star. 
Darby Forever's Saturday Night Live connection goes beyond just Bryant. It's directed by Osmany Rodriguez, one-half of SNL segment directors Matt and Oz, and written by Bryant and Chris Kelly, a veteran SNL writer who made his feature directorial debut at Sundance this year with Other People. Despite all that, the short's tone is less broadly goofy than that of your typical Saturday Night Live sketch. Darby Forever is definitely funny (particularly whenever Retta shows up) but it's also tender and sweet, with an ending that might make you melt a little bit, even in your current grumpy, sleep-deprived state.Darby Forever costs 99 cents to rent or $2.99 to buy at Vimeo.
DARBY FOREVER follows the fantasies of Darby, a shopgirl at "Bobbins & Notions," a fabric store in a nameless town that is both ordinary and bizarre. The customers she encounters in the shop spark colorful daydreams as Darby looks for independence and maybe finds love with delivery man, Nick.