'The Jungle Book' TV Spot: Bagheera Is Ready To Take Mowgli Back To The World Of Men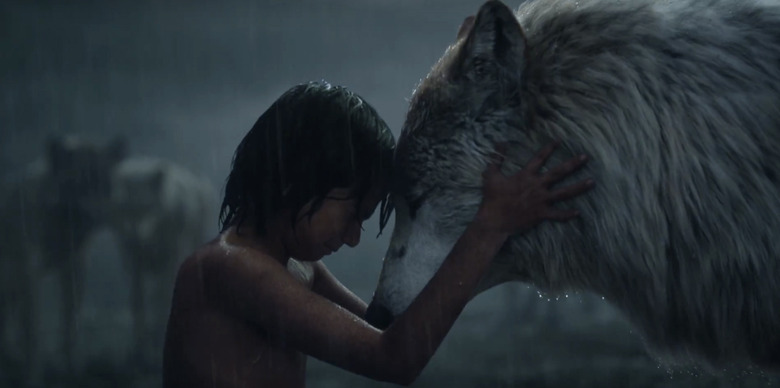 When Super Bowl 50 unrolled a bunch of new TV spots for some of this year's biggest movies, The Jungle Book got an impressive new full-length trailer that finally showed the incredibly realistic computer generated animals talking. Even though it's a little strange to see such incredibly detailed animals speaking like humans, it works surprisingly well.
Now a new TV spot gives us a little more from the new adaptation of Rudyard Kipling's classic book about a boy (newcomer Neel Sethi) raised in the jungle who finds his life threatened by Shere Khan (Idris Elba), a tiger hellbent on keeping any trace of men out of the wild. In a new The Jungle Book TV spot, the panther Bagheera (Ben Kingsley) decides he'll take Mowgli back where he belongs.
Here's the new TV spot for The Jungle Book straight from Disney:
There's not much in the vein of new talking beyond the scene with Bagheera and Baloo (Bill Murray), but there is the hint of the "Bear Necessities" fanfare in this spot. The presence of that song, which we heard teased previously, make me wonder just how many of the other songs from Disney's animated take on the tale will make it into the movie. Surely there won't be nearly as much song and dance, if only because that might get a little too silly with the realistic animals dancing around the jungle. But we'll find out in a couple months.
Directed by Jon Favreau ("Chef," "Iron Man," "Elf"), based on Rudyard Kipling's timeless stories and inspired by Disney's classic animated film, "The Jungle Book" is an all-new live-action epic adventure about Mowgli (newcomer Neel Sethi), a man-cub who's been raised by a family of wolves. But Mowgli finds he is no longer welcome in the jungle when fearsome tiger Shere Khan (voice of Idris Elba), who bears the scars of Man, promises to eliminate what he sees as a threat. Urged to abandon the only home he's ever known, Mowgli embarks on a captivating journey of self-discovery, guided by panther-turned-stern mentor Bagheera (voice of Ben Kingsley), and the free-spirited bear Baloo (voice of Bill Murray). Along the way, Mowgli encounters jungle creatures who don't exactly have his best interests at heart, including Kaa (voice of Scarlett Johannsson), a python whose seductive voice and gaze hypnotizes the man-cub, and the smooth-talking King Louie (voice of Christopher Walken), who tries to coerce Mowgli into giving up the secret to the elusive and deadly red flower: fire.
The Jungle Book opens April 15.