Jennifer Aniston And Jason Bateman Reunite For An 'Office Christmas Party' With A Hilarious Cast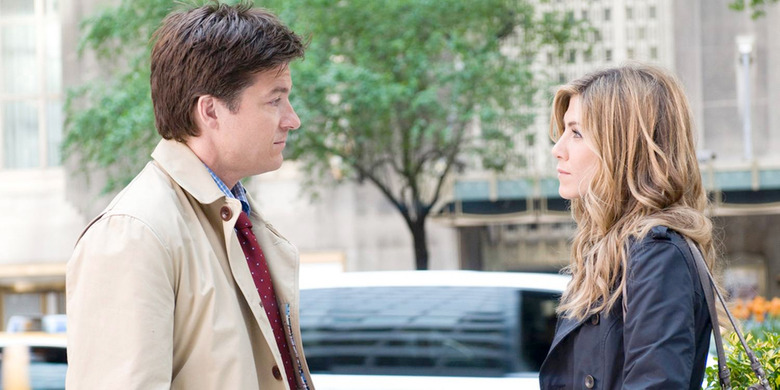 If you've ever held a job in your lifetime, there's a good chance that you've had to deal with the inevitable craziness and/or awkwardness of an office Christmas party. And now Blades of Glory directors Will Speck and Josh Gordon will attempt to bring that to the big screen with the help of Horrible Bosses stars Jennifer Aniston and Jason Bateman, as well as two of the best supporting comedy stars working today. Find out more about the Office Christmas Party movie after the jump!
THR reports DreamWorks Pictures is behind the new comedy with a script that coincidentally comes from The Office scribes Lee Eisenberg & Gene Stupnitsky along with Hot in Cleveland write Laura Solon. Details aren't abundant, but the movie is said to follow a cast of characters who have to contend with an office party gone awry. One would have thought that Eisenberg & Stupnitsky dealt with all the office Christmas party shenanigans they could with their work on The Office, but perhaps this will allow them to get a little more crazy and raunchy.
Jason Bateman and Jennifer Aniston have made a good comedy team before in both of the Horrible Bosses movies as well as The Switch. But personally, I'm much more excited about the prospect of Deadpool co-star T.J. Miller and future Ghostbusters star Kate McKinnon (the best cast member on Saturday Night Live right now) also starring in the movie along with them.
The movie has seen a variety of iterations over the years, but this seems to be the one that finally gets off the ground with production set to begin this spring in Atlanta, Georgia. Paramount Pictures has already staked out a prime holiday release date on December 9 this year, giving it a week to breathe before Rogue One: A Star Wars Story arrives the following week.
This marks the second holiday themed project that Aniston has coming this year since she's also appearing in Mother's Day this April along with every person who has ever acted before. Meanwhile, Bateman will be seen in animated form soon as one of the lead animals in Disney's Zootopia. As for Miller, he's got the new season of Silicon Valley coming on April 24 while Kate McKinnon can be seen on Saturday Night Live as well as in this year's Ghostbusters reboot.
Here's hoping some more great comedy stars end up joining this holiday party comedy.