'Sea Of Trees' Japanese Trailer: Matthew McConaughey Finds Himself In Purgatory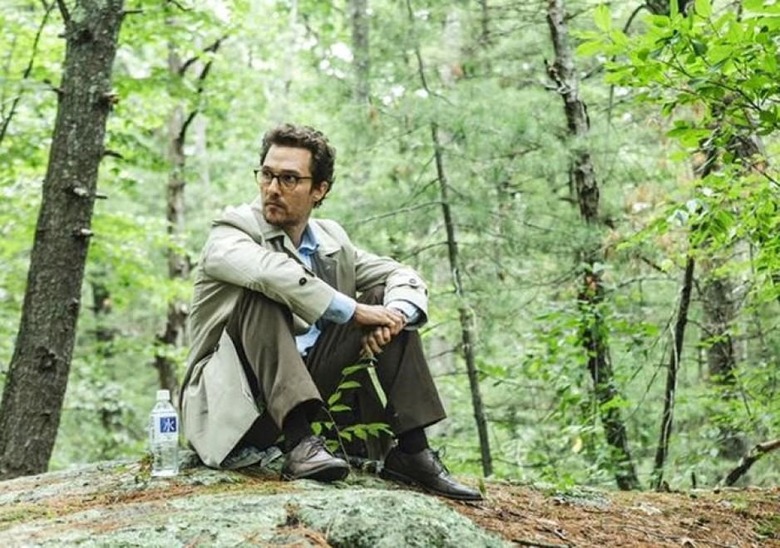 Gus Van Sant's Sea of Trees premiered almost a year ago at the Cannes Film Festival. The drama, which stars Matthew McConaughey and Ken Watanabe, wasn't particularly well received. Booing from critics was reported, but you can't really take booing, especially at the Cannes Film Festival, seriously. Plus, what kind of an adult really feels the need to boo after a movie?
Roadside Attractions picked up Sea of Trees for U.S. distribution, but a release date has yet to be set. The film is opening in Japan soon, though, so a foreign Sea of Trees trailer has just been made available.
Matthew McConaughey is still on a hot streak. With the Dallas Buyers Club, Interstellar, True Detective, Killer Joe, The Wolf of Wall Street, The Lincoln Lawyer, and those critically acclaimed Lincoln advertisements, he's been a part of films that have seriously connected with audiences these past few years. Gus Van Sant doesn't always make the most commercial movies, and neither does McConaughey, so maybe Sea of Trees won't be considered a part of the much talked about McConaissance.
Here's the Japanese Sea of Trees trailer (via Collider):
There's a lot of regret and pain going on in this trailer, but the ending goes for a more heartwarming vibe. Gus Van Sant is a filmmaker capable of variety. He's told some brutally honest stories, while he's also made some more inspiring films — and Sea of Trees looks like a blend of both sensibilities. The film is written by Chris Sparling, who wrote the very clever 2010 thriller, Buried.
Here's the official synopsis via Cannes:
It's love and loss that lead Arthur Brennan, across the world to Japan's Aokigahara, a mysterious dense forest known as The Sea of Trees lapping the foothills of Japan's Mount Fuji – a place where people go to contemplate life and death. Arthur enters the depths of the forest and loses himself beyond the guiding ribbons threaded through the trees by many before him. Having found the perfect place to die, Arthur encounters Takumi Nakamura, a Japanese man who also appears to have lost his way. Unable to leave Takumi behind, Arthur invests all of his remaining energy into saving Takumi and returning him to safety. The two men embark on a journey of reflection and survival, which affirms Arthur's will to live and reconnects him to his love with his wife.
Sea of Trees is currently without a U.S. release date.