Oliver Stone's 'Snowden' Pushed Back To Fall 2016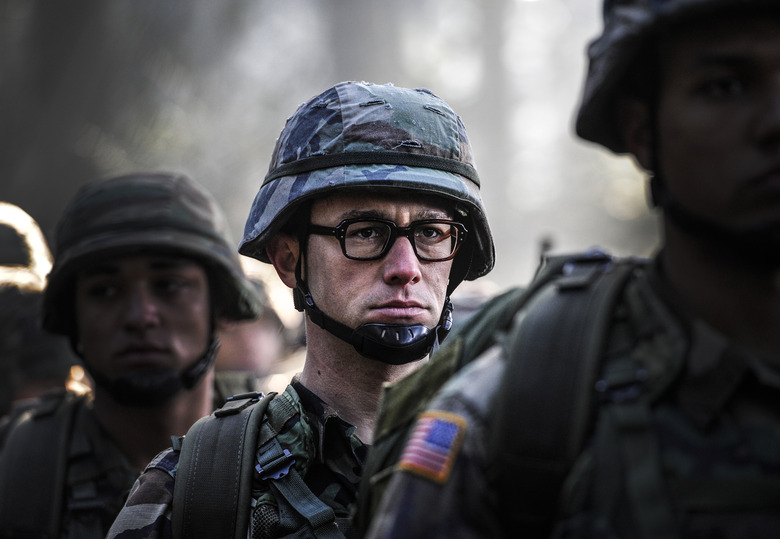 For a spell, it looked like Oliver Stone's Snowden could be a contender in this year's awards race. It had a timely hot-button topic and an all-star cast, including Joseph Gordon-Levitt and Shailene Woodley. Maybe most telling of all, it also had a primo release date: December 25, 2015. But those hopes were dashed when Open Road yanked the film off its 2015 calendar into summer 2016.
Or maybe not. Open Road Films has just pushed back Snowden a few more months into fall 2016, right at the start of prestige pic season. 
THR reports Snowden has moved from May 13, 2016 to September 16, 2016. It'll be up against two thrillers: Nerve, directed by Catfish's Henry Joost and Ariel Schulman and starring Dave Franco and Emma Roberts; and When the Bough Breaks, starring Regina Hall and Morris Chestnut. The week before (September 9) brings Sully, Clint Eastwood's Sully Sullenberger biopic starring Tom Hanks.
Open Road made the decision last year to push Snowden from 2015 in order to 2016 to give Stone more time to finish his film. Now that he's had that, the film's shift to fall gives it more time to build buzz on the festival circuit. Mind you, none of this is to say that Snowden is definitely on the Oscar track. It's certainly possible for a movie to have the right cast, the right crew, the right premise, and the right release date, and still fall flat on its face. Just ask Gordon-Levitt, whose The Walk sank without a trace last fall. Directed by Robert Zemeckis and well liked by critics, it looked like a potential heavy-hitter until it didn't.
But regardless of whether or not Snowden is headed for awards glory, the move away from summer blockbuster season should prove helpful. In its old date, this straight-faced biopic would have been sandwiched between Captain America: Civil War the week before (May 6) and Neighbors 2 and The Nice Guys the week after (May 20). Hopefully September will give Snowden a bit more room to breathe.
Gordon-Levitt leads Snowden as the controversial NSA whistleblower, and Woodley plays his girlfriend Lindsay Mills. Also starring are Melissa Leo as Citizenfour director Laura Poitras; Zachary Quinto as journalist Glenn Greenwald; Tom Wilkinson as political reporter Ewen MacAskill; Timothy Olyphant as a CIA agent; and Nicolas Cage as a former intelligence official. Kieran Fitzgerald wrote the script.