'Zootopia' Hi-Res Stills Reveal A 'Frozen' Easter Egg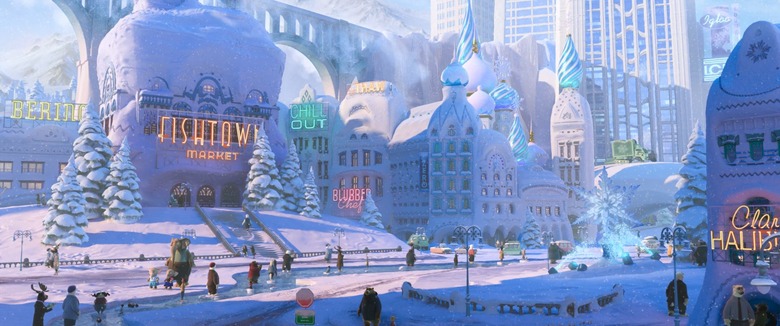 Disney Animation features don't officially share a single universe, even if we get the occasional wackadoodle theory explaining how they could. But the animators do love sneaking in references to previous Disney films. Like the time Tangled's Rapunzel dropped by Frozen's Arendelle, or the time Wreck-It Ralph's Saitine made an appearance in Big Hero 6.
Usually, these little details slip out after the movie's actually opened, as fans pore over the imagery and share what they've seen. But in the case of Zootopia, a new batch of images has already revealed one adorable Frozen Easter egg. Find out where — and see a whole bunch of new Zootopia stills, after the jump. 
Did you catch the Zootopia Frozen Easter egg in the header image? If not, here's a closer look (h/t The Disney Blog for pointing it out):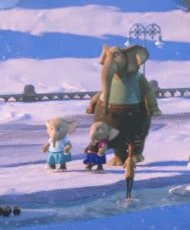 Yep, that's two tiny elephants dressed up as Anna and Elsa. That Zootopia Frozen Easter egg is in addition to the other, not-so-secret Frozen reference we already know about: Alan Tudyk, who voiced the Duke of Weselton in Frozen, voices a character named "Duke Weaselton" in Zootopia. It's also worth pointing out that Kristen Bell has a voice cameo in Zootopia, though that may have less to do with her Frozen role than her famous sloth obsession.
Moving along, here are a whole bunch of other big, beautiful Zootopia hi-res images. You can see even more at Stitch Kingdom.
There's no question this is one beautiful movie, but that's not surprising coming from a top studio like Disney. Even more encouraging is the great buzz already surrounding this film. The studio's been on a roll lately, and by all accounts it sounds like Zootopia will be another smash hit for them. Get in touch with your wild side when the film opens March 4.
The modern mammal metropolis of Zootopia is a city like no other. Comprised of habitat neighborhoods like ritzy Sahara Square and frigid Tundratown, it's a melting pot where animals from every environment live together—a place where no matter what you are, from the biggest elephant to the smallest shrew, you can be anything. But when rookie Officer Judy Hopps (voice of Ginnifer Goodwin) arrives, she discovers that being the first bunny on a police force of big, tough animals isn't so easy. Determined to prove herself, she jumps at the opportunity to crack a case, even if it means partnering with a fast-talking, scam-artist fox, Nick Wilde (voice of Jason Bateman), to solve the mystery. Walt Disney Animation Studios' "Zootopia," a comedy-adventure directed by Byron Howard and Rich Moore and co-directed by Jared Bush, opens in theaters on March 4, 2016.