Amazon Studios Picks Up Woody Allen's New Movie, Starring Kristen Stewart And Jesse Eisenberg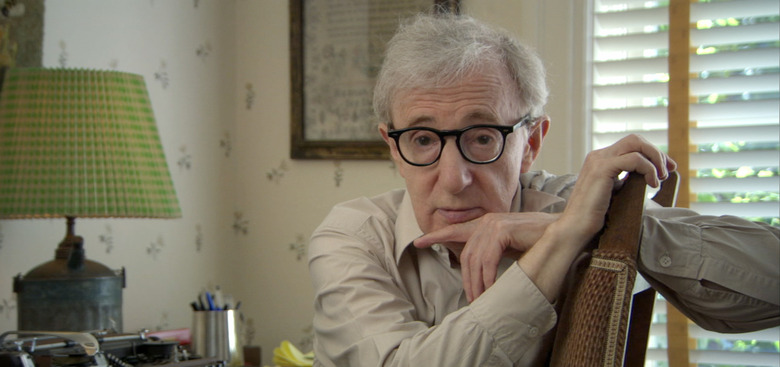 For the past forty years, Woody Allen has reliably churned out one film per year. And for the past seven years, Sony Picture Classics has been faithfully by his side to put them out. But even Woody Allen needs a change of pace from time to time. So his next movie is going not to Sony, but to Amazon Studios, which also commissioned his first-ever TV series last year.
Come to think of it, Allen is basically living the plot of one of his own movies. Allen, of course, is the neurotic, intellectual older man who finds himself in a rut, and Amazon Studios is the lively, perky, much younger woman whom he doesn't quite understand, but nevertheless proves to be just the person to help break him out of that funk.
Amazon Studios announced its acquisition of Allen's latest film via press release. The as-yet-untitled picture is described as "a romantic comedy staged in the 1930s," and stars Jeannie Berlin, Steve Carell, Jesse Eisenberg, Blake Lively, Parker Posey, Kristen Stewart, Corey Stoll, and Ken Stott. (Carell, you may remember, was the unlikely replacement for Bruce Willis, who dropped out after shooting began.) The company plans to open the movie in theaters nationwide this summer, before making it available exclusively to Prime members on Amazon Prime Video.
"Like all beginning relationships, there is much hope, mutual affection, and genuine goodwill — the lawsuits come later," joked Allen in the statement. Amazon Studios head Roy Price had a much drier, more generic comment. "Woody Allen is a brilliant filmmaker," he said. "We're so proud to be in business with him for both his next film and his first ever TV series."
And speaking of that TV series, Allen is reportedly gearing up to start shooting it next month. In typical fashion, Allen is keeping plot details under lock and key. However, we have heard that it'll be set in the 1960s and star Elaine May and Miley Cyrus. Allen will also star, as well as write and direct. The filmmaker, who has said he doesn't even know what a streaming service is, has readily acknowledged that the prospect of making a TV series has him feeling nervous. "It was a catastrophic mistake. I don't know what I'm doing. I'm floundering," he confessed last year. "I expect this to be a cosmic embarrassment."
Amazon Studios has been working hard to establish itself in the crowded field of streaming services. It cleaned up at Sundance this year, snagging high-profile projects like Todd Solondz's Wiener-Dog, Kenneth Lonergan's Manchester by the Sea, and Whit Stillman's Love & Friendship, and it's got some intriguing series coming up including Tig Notaro's One Mississippi and a Jack Ryan reboot. Allen's new projects should fit right in.