HBO Renews Martin Scorsese's 'Vinyl' For Season 2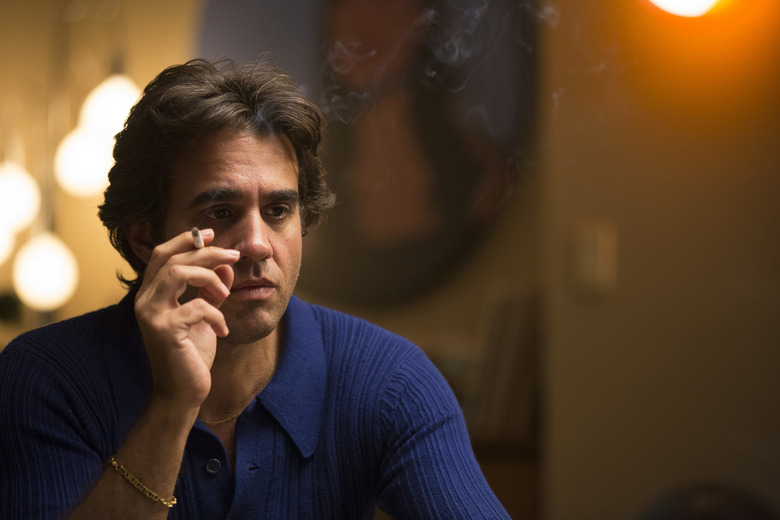 HBO is keeping the good times going. The network has renewed its 1970s rock 'n' roll drama Vinyl for another year, just one episode into its first season. The show's pedigree is as prestigious as prestige TV gets: it hails from the Boardwalk Empire dream-team duo of Terence Winter and Martin Scorsese, plus Rich Cohen and Mick Jagger. Bobby Cannavale leads the ensemble cast as a self-destructive record label exec facing the dawn of punk, hip-hop, and disco in New York.
The news arrives just days after Vinyl's first season premiere. The pilot episode was warmly received by critics, who praised the cast, the music, and the rich period detail. (Though more than a few of them have also pointed out how familiar the story feels, following all the other antihero dramas we've seen lately.) Unfortunately, even their kind words couldn't convince audiences to tune in. Vinyl drew just 764,000 viewers for its two-hour debut on Sunday night, or less than half of what The Leftovers, for example, drew in its opening episode.
Given that, Vinyl's second season renewal wasn't exactly a guarantee. But it doesn't come as a huge surprise, either. For starters, HBO isn't as ratings-dependent as broadcast or basic cable networks, and therefore has more freedom to stick with little-watched shows it deems worthy. And with that cast and crew, not to mention all that critical acclaim, it's no wonder the network is willing to stick with Vinyl and see where it goes. If the answer turns out to be "nowhere good," well, then, maybe they can just un-renew it like they did The Brink. (Note: this is not going to happen.)
Personally, I wasn't as high on Vinyl as some were. It felt too much like a less good, less original Mad Men, even with that incredible soundtrack and top-notch cast. In fairness, though, pilot episodes are rarely the best indicator of a show's quality. There's enough talent here that the show could very well evolve into something more unique. And if it doesn't, well, there's always The Get Down, the other 1970s rock 'n' roll drama premiering this year. That one comes from Baz Luhrmann, and is hitting Netflix in August.
Here's what's ahead this season on Vinyl: