'Orphan Black' Season 4 Trailer & Premiere Date: "Well, Now I'm Confused"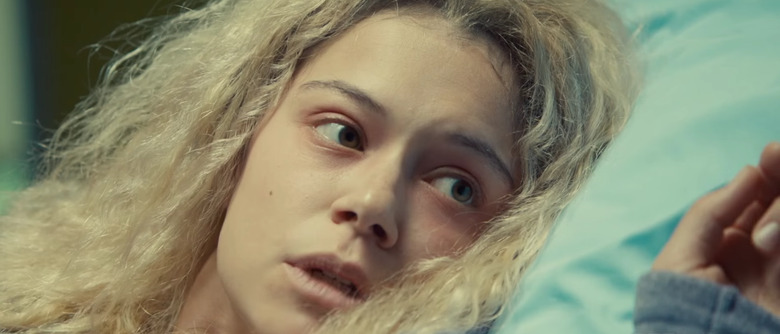 After a couple of cryptic teasers, BBC America's Orphan Black has finally served up a proper trailer for season 4. Tatiana Maslany, Tatiana Maslany, and Tatiana Maslany return to lead the sci-fi drama, which also stars Tatiana Maslany, Tatiana Maslany, Tatiana Maslany, and Tatiana Maslany. Though you'd be forgiven for occasionally forgetting that all of those Tatiana Maslanys are actually the same person. She's that good.
Orphan Black's intricate web of conspiracy only got more tangled in season 3, and it doesn't look like things are getting any simpler for the sestras in season 4. As a matter of fact, yet another new clone will make her presence known. Watch the Orphan Black season 4 trailer, which also reveals exactly when Clone Club will be back in session, after the jump. 
Yup, that's another new clone under that creepy sheep mask. This mysterious character goes by the equally mysterious moniker "M.K.," and it looks like she may have some of the answers Sarah's been seeking for so long. She's been "self-aware" for a long time, meaning she understands she's a clone, and co-creators Graeme Manson and John Fawcett describe her as "very elusive," "quite highly skilled," and "very smart" — but also "very paranoid" and "reluctant" to get involved.
While Orphan Black is sure to throw lots more twists and turns our way, its first big surprise is its release date. The series will premiere April 14 at 10/9c on BBC America, which is a Thursday. So if you've spent the past three years planning your Saturday nights around Clone Club, adjust your schedule accordingly.
Sarah, reluctantly return home from her Icelandic hideout to track down an elusive and mysterious ally tied to the clone who started it all — Beth Childs. Sarah will follow Beth's footsteps into a dangerous relationship with a potent new enemy, heading in a horrifying new direction. Under constant pressure to protect the sisterhood and keep everyone safe, Sarah's old habits begin to resurface. As the close-knit sisters are pulled in disparate directions, Sarah finds herself estranged from the loving relationships that changed her for the better.
Returning this season is Jordan Gavaris as Sarah's battle-worn foster brother Felix; Maria Doyle Kennedy as Sarah and Felix's foster mother Mrs. S; Kristian Bruun as Donnie, Alison's partner-in-crime and husband; Kevin Hanchard as Art, Beth's detective partner who's torn between his job and his loyalty to the clones; Skyler Wexler as Sarah's long-suffering daughter Kira; Ari Millen as a mysterious new Castor clone, the likes of which we've never seen before; and Josh Vokey as Scott, Cosima's lab partner. Also returning this season is James Frain as Ferdinand, an intimidating "cleaner" for shadowy organization, Topside; Allison Steadman as Kendall Malone, "the original"; and Rosemary Dunsmore as Susan Duncan, Rachel's adoptive mother and one of the leading scientists of Project Leda. Joining the Orphan Black cast this season is Joel Thomas Hynes as Dizzy, an edgy, self-reliant hacker who doesn't conform to group mentality. Additional casting for the series will be announced in the coming weeks.