Daredevil Season 2 Character Image Presents The Devil In Chains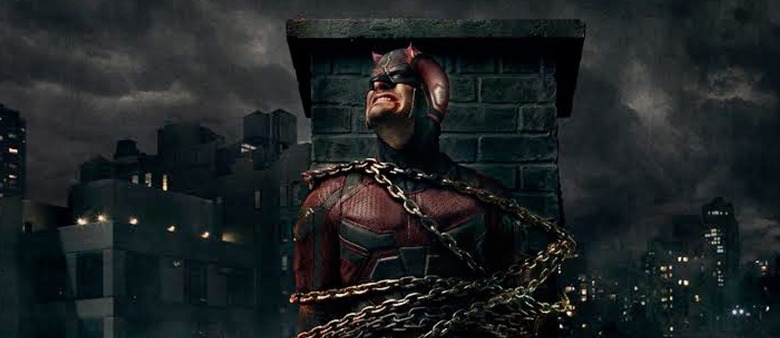 Today Netflix released a new Daredevil character image from Daredevil season two, which is set to premiere globally on Netflix on Friday, March 18th, 2016 at 12:01am PT with thirteen new one-hour episodes.
Daredevil Season 2 Character Image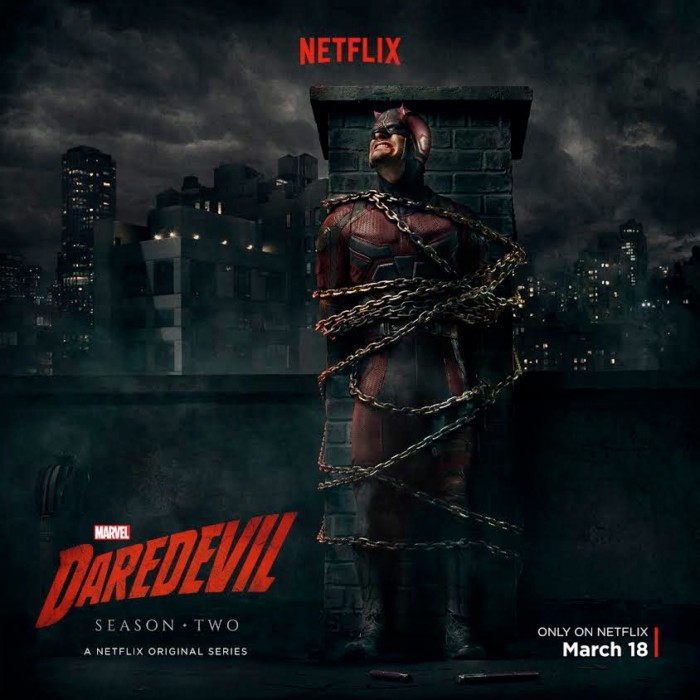 A motion version of this Daredevil season 2 character image was released on social media. Check it out below:
Battle lines have been drawn. #Daredevilhttps://t.co/N5WjSPKac8

— Daredevil (@Daredevil) February 18, 2016
We know that Daredevil season 2 will see Matt Murdock come face to face with a new adversary in Frank Castle (aka The Punisher) and an old flame, Elektra Natchios, will resurface. How will Matt deal when faced with another a man taking the law into his own hands in his journey for vengeance? And what does the return of Elektra mean for this rising new superhero? The above Daredevil season 2 character poster suggests that Matt Murdock will be tied up, pulled in many directions in this new season.
And here is the official synopsis released for the upcoming second season of Daredevil:
Blinded as a young boy but imbued with extraordinary senses, Matt Murdock (Charlie Cox) fights against injustice by day as a lawyer, and by night as the superhero "Daredevil" in modern day Hell's Kitchen, New York City.
Charlie Cox (Matt Murdock/Daredevil) is joined by a stellar cast including Jon Bernthal (Frank Castle/The Punisher), Elodie Yung (Elektra), Deborah Ann Woll (Karen Page), Elden Henson (Foggy Nelson), Rosario Dawson (Claire Temple), and Scott Glenn (Stick). Marvel's Daredevil is Executive Produced by series Co-Showrunners Marco Ramirez (Sons Of Anarchy, Fear The Walking Dead) and Douglas Petrie (CSI: Crime Scene Investigation, Buffy: The Vampire Slayer, American Horror Story), along with Jeph Loeb (Marvel's Jessica Jones), who also serves as Marvel's Head of Television.