Jessica Chastain Eyes Aaron Sorkin's Directorial Debut 'Molly's Game'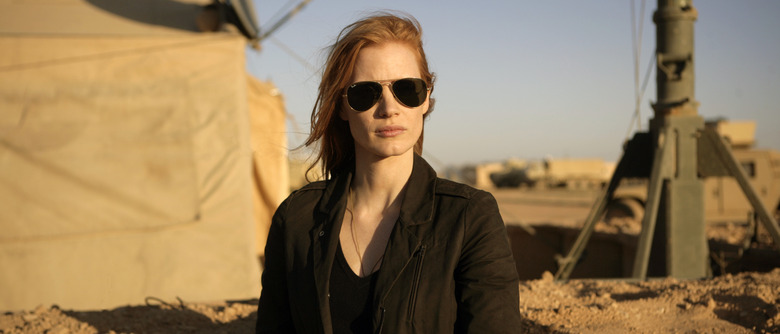 Over the course of his career, Aaron Sorkin has put his words in the mouths of some very talented actors, from Michael Fassbender (Steve Jobs) to Jeff Bridges (The Newsroom) to Jesse Eisenberg (The Social Network). And now that he's getting ready to make the leap from writing to directing, he's got his eye on another world-class thespian. Jessica Chastain is being courted to lead Molly's Game, based on a true-life story set in the world of high-stakes underground poker. 
TheWrap reports Sorkin has offered Chastain the lead role, and their sources indicate that Chastain is interested. However, she's yet to officially accept or decline, and negotiations have not yet begun. Even if Chastain decides she wants to make it work, that could be easier said than done with her busy schedule. She's about to begin shooting the gun control pic Miss Sloane and Xavier Dolan's The Death and Life of John F. Donovan, and has The Huntsman Winter's War and The Zookeeper's Wife opening later this year.
Based on the memoir by Molly Bloom, Molly's Game chronicles her journey from world-class skier to Los Angeles cocktail waitress to ringleader of one of the most exclusive poker games in town. Players at her tables included A-listers like Ben Affleck, Leonardo DiCaprio and Tobey Maguire. But her brief reign as the queen of Hollywood's poker scene came crashing down in 2013 when she was arrested by the FBI. Sorkin wrote the script himself, and Mark Gordon and Amy Pascal will produce.
Despite having worked with some great directors, including Danny Boyle for Steve Jobs, David Fincher for The Social Network, and Bennett Miller for Moneyball, Sorkin's never directed for film or TV himself. Molly's Game marks his directorial debut. It'll also be the first time he's worked with Chastain, who has her own long list of big-name collaborators including Christopher Nolan (Interstellar), Ridley Scott (The Martian), and, most recently, Guillermo del Toro (Crimson Peak).