Josh Hutcherson To Lead 'Future Man', Seth Rogen And Evan Goldberg's 'Last Starfighter'-Esque Pilot For Hulu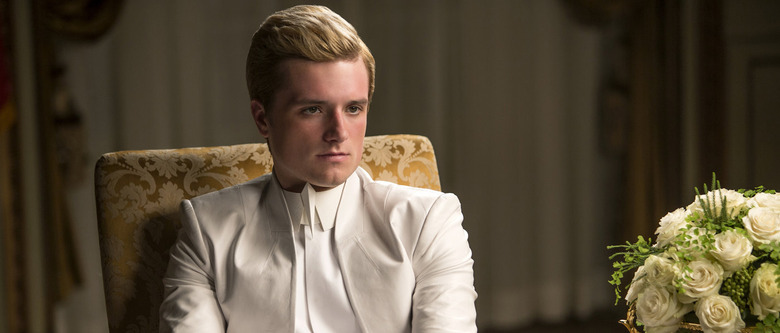 Josh Hutcherson is trading the Hunger Games for video games. He's just been set as the lead of Future Man, a half-hour comedy pilot for Hulu from Seth Rogen and Evan Goldberg. The story centers on an unassuming nobody whose one skill is playing a certain video game. To his shock, he discovers that this apparently useless talent makes him uniquely qualified to save humanity.
Although maybe he shouldn't be that surprised, really, seeing as this is also more or less the premise of The Last Starfighter. And Ernest Cline's Armada. And Adam Sandler's Pixels. Really, it just seems like common knowledge at this point that video games are secretly manuals for saving the world. 
Here's how Variety describes Future Man:
From Seth Rogen and Evan Goldberg, "Future Man" is about a janitor named Josh Futterman — played by Hutcherson — who has to save humanity from extinction.
Josh, who's a world-ranked videogamer by night, is tasked with preventing the elimination of the human race after mysterious visitors from the future proclaim him the key to defeating an imminent super-race invasion. Still living at home with his parents, Josh has a dead-end job as a janitor at Devlin, a sexual disease research center. He's socially inept, has low self-esteem and can't approach women, but the one thing at which he excels is Cybergeddon, a video game set in a dystopian future where his character, Future Man, has the top ranking in the world; when he beats the final level, he's visited by characters from the game who claim it's been his training manual and he's been selected to travel back in time and help them save the world.
Hutcherson will produce as well as star. Rogen and Goldberg are executive producing with Matt Tolmach (The Amazing Spider-Man) in addition to directing. The script comes from Kyle Hunter and Ariel Shaffir.
Since completing the Hunger Games franchise, Hutcherson has teamed up with director James Franco for a trio of features: The Disaster Artist, In Dubious Battle, and The Long Home. Though he's known as more of a dramatic actor, Future Man could offer him a chance to show off some comedic chops. And Josh Futterman sounds different enough from Peeta Mellark to help Hutcherson transition into a new phase of his career.
Hulu has been working hard to make a name for itself in the increasingly crowded field of original streaming series. This week they premiered one of their most high-profile shows yet, the Franco-starring Stephen King adaptation 11.22.63. A comedy involving Rogen, Goldberg, and Hutcherson sounds like a good get, and one that might even attract some attention from TV viewers who've yet to sample Hulu's wares.