Everything Wrong With 'Sherlock Holmes' Explained In 13 Minutes Or Less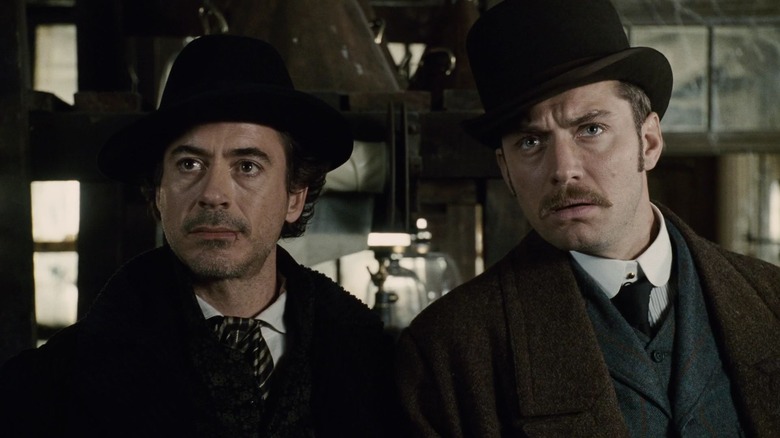 Guy Ritchie's Sherlock Holmes is a perfectly enjoyable movie. Robert Downey Jr. and Jude Law make for a charming Sherlock and Watson, Hans Zimmer's playful score is an immense pleasure, and Ritchie's eye is energetic and stylish enough. While Avatar was killing it at the box-office back in 2009, Sherlock Holmes was also winning over audiences.
How does the film holdup since its release? Just fine, but this "Everything Wrong With Sherlock Holmes in 13 Minutes or Less" points out a few of the conveniences, noticeable leaps in logic, and more.
I'm not a big fan of these sorts of videos. Most of the "movie sins" are either just jokes or nitpicks. They're popular, though, and this one for Sherlock Holmes does bring up a few of the issues found in Ritchie's film.
Here's everything wrong with Sherlock Holmes from CinemaSins:
One of the problems with both Sherlock Holmes movies, which is not mentioned in this video, is the bromance between Sherlock and Watson. It's funny and convincing, but sometimes all their banter leaves supporting characters, especially the female ones, on the sidelines, leaving them with little to do. They never quite get in on the fun the detectives are having.
If you weren't a fan of Ritchie's picture before this, RocknRolla, then you probably consider Sherlock Holmes his comeback. After Snatch, the director's films that followed (Swept Away, Revolver) were disappointing, so this adaptation of Arthur Conan Doyle's beloved character brought Ritchie back in a big way, even if it didn't equal his earlier work. After Sherlock, Ritchie started to direct pictures on a far bigger scale, including Sherlock Holmes: A Game of Shadows, which didn't perform as well at the box-office and with fans and critics as the first installment did.
We've yet to hear more about a third Sherlock Holmes picture. Before A Game of Shadows even opened in theaters, Drew Pearce (Iron Man 3) was hired to write the script for the third film. Over the past few years, some of the key players — Downey Jr., Ritchie, and Law — have been rather busy. Obviously this is never going to happen, but if Ritchie was ever going to make another sequel, I'd rather it be The Man from U.N.C.L.E. 2. That effortlessly cool throwback was the director's true return-to-form, but sadly not enough people saw it in theaters.
Plenty of people saw the Sherlock Holmes movies, though, so we should expect to see at least one more adventure with these characters in the coming years.