Diagon Alley Hollywood Expansion Rumored As Wizarding World Is Set To Open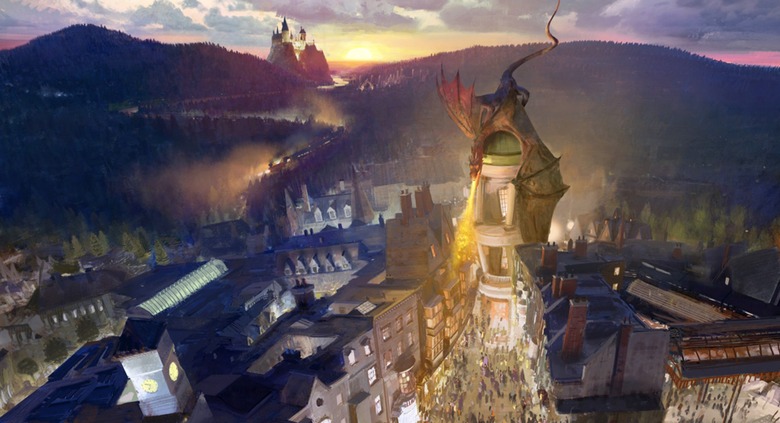 Universal Studios Hollywood's West Coast version of The Wizarding World of Harry Potter is set to have its grand opening in just a couple months (though if you've visited the park last week you might have caught one of their early soft openings). It's no secret that Universal would like their theme parks around the world to mirror each other, thus providing the same "universal," pun intended, experience.
And one of the worst kept secrets in the theme park world is that Universal Studios Hollywood is supposedly planning to expand their Wizarding World to include the Diagon Alley expansion that opened in summer 2014 in Universal Studios Orlando. But where will Diagon Alley Hollywood be located and what attractions will it include? Will guests be able to ride the Hogwarts Express in Hollywood?
I've heard a lot of rumors through various sources and sites claiming to have info on where exactly Hollywood's Diagon Alley expansion would go, and what it would include, but no two reports seem to match up.
I had initially heard that Diagon Alley would replace soundstages 6-20 and 22-25 on the backlot property. The first reports claimed that the expansion could open as soon as 2020 with construction to begin before the Wizarding World has its grand opening celebration. According to most of the reports, the Diagon Alley land would be completely recreated in Hollywood, complete with the Harry Potter and the Escape From Gringotts ride. But the big question is, will the Hollywood version also have a Hogwarts Express experience that transports guests to and from Hogsmeade to Diagon Alley?
We had heard that a Hollywood version of the Hogwarts Express would transport guests from Hogwarts on the Upper Lot to a Diagon Alley attraction area on the Lower Lot. This would be a much more extensive task than they have in Orlando, which is relatively flat. If you've ever visited Universal Studios Hollywood and trekked up and down that never-ending escalator, then you can see how this might be an issue.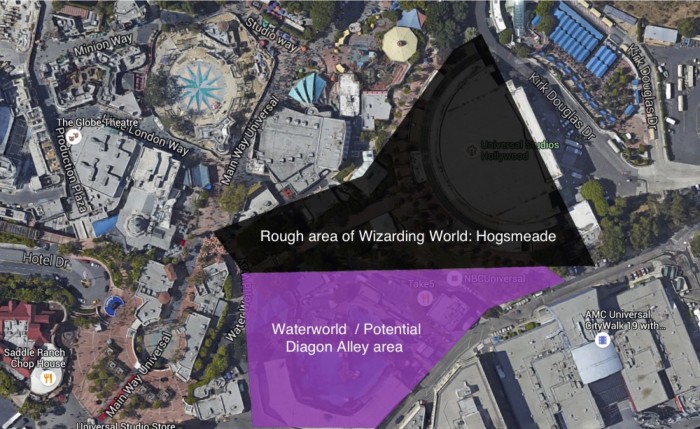 A Los Angeles Times source supposedly later saw the official plans for the expansion that would place Diagon Alley on the site of the current Waterworld stunt show (in my opinion, one of the best things at Universal Hollywood despite it being based on a hugely mocked failed blockbuster film). The map above (from Hypable) gives you a rough indication of the lay of the land.
But with Hogsmeade potentially located just a jump and a skip away from the Waterworld stunt show area, would a version of Hogwarts Express even be needed to transport guests from one to the other?
In January, Screamscape reported that if Hollywood's version of Diagon Alley included the Hogwarts Express, it might not actually move anywhere. According to that report, the Hogwarts Express experience would be similar to what guests experience in Orlando but the train wouldn't actually move, with guests exiting out of the other side of the train to arrive in Diagon Alley. They would also apparently enhance the experience somehow (possibly with motion simulator like movements and effects like rain hitting the roof, etc.).
However, elsewhere Disneyandmore is reporting that Universal is still thinking of building a moving Hogwarts Express in Hollywood, "although the track length might be less long than in Florida."
Of course, The Wizarding World of Harry Potter still needs to have its grand opening in Hollywood before Universal announces any expansion plans. And as we know, they are usually very late in announcing such plans to the public, so we might not hear anything "official" until they are in the construction phase.