Live-Action 'Astro Boy' Movie Coming From 'San Andreas' Writers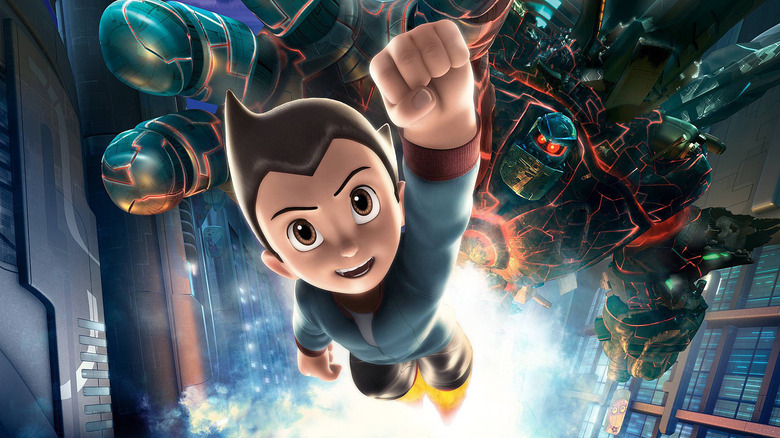 Astro Boy is getting closer to takeoff. A year ago, we heard Animal Logic Entertainment (the animation and effects studio behind hits like Avengers: Age of Ultron and The Lego Movie) was planning to adapt the classic Japanese manga as a live-action feature. Now it's found a new home at Warner Bros.' New Line, and picked up San Andreas scribes Andre Fabrizio and Jeremy Passmore. 
THR reports New Line is currently in negotiations to scoop up live-action Astro Boy movie, which will be scripted by Fabrizio and Passmore. Besides San Andreas, the pair's other credits include the quickly forgotten Bruce Willis thrillers Vice and The Prince. Australia's Animal Logic is producing Astro Boy with Ranger 7 Films and Japan's Tezuka Productions. No director has been announced, and casting has not yet begun.
Astro Boy (also called Atom) is a robot invented by a scientist named Dr. Tenma following the death of his son. But Tenma is disappointed to realize that Astro Boy can't replace his real boy, and eventually abandons him. Astro Boy then embarks on a Pinocchio-style adventure that ends with him finding a new owner, discovering several new superpowers, and becoming a hero.
The character started out in the early 1950s as the lead of a manga series written by Osamu Tezuka. Astro Boy has since starred in several anime series and video games. However, it's only released one proper film, a 2009 animated adventure featuring Freddie Highmore as the voice of Astro Boy. Critics responded with a collective shrug and moviegoers didn't bother seeing it at all. Which may work out in this new project's favor. Audiences probably won't even realize that it's a reboot of a relatively recent film.
Details on the upcoming live-action Astro Boy movie remain under wraps, but it sounds like the property will be aged up a bit. Whereas the original franchise mainly targeted young boys, the new film is envisioned as a four-quadrant adventure flick. "We've seen his as a manga, an anime and an animated movie but we've never seen him as a live action movie or him as a superhero," said producer Zareh Nalbandian last year. "We actually see him in the same league as an Iron Man."