Quentin Tarantino Already Has Ennio Morricone Scoring His Next Movie, Whatever It May Be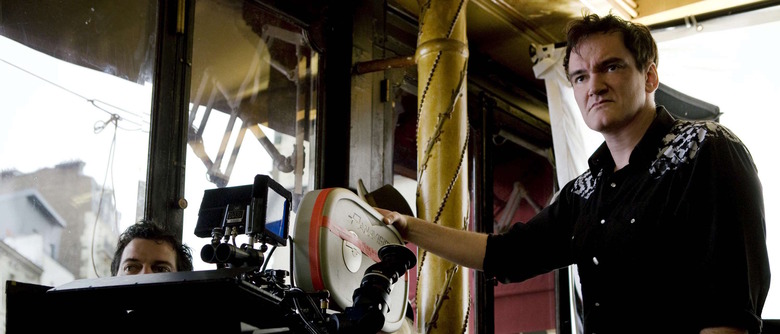 We don't know yet what Quentin Tarantino's next movie will be, but we now have some idea of what it might sound like. Composer Ennio Morricone, who previously worked with Tarantino on Django Unchained and The Hateful Eight, has revealed that he's planning to reunite with Tarantino for a future project. Though it's not clear if even Morricone knows what that is at this point. More about the ongoing Quentin Tarantino Ennio Morricone collaboration below. 
Morricone spilled the beans in a chat with Deadline:
Tarantino has already told me that there will be a next movie that we are going to make together. ... I told him that in the future I would like to have much more time. I would like to start working with him even long before in order to have the time to work, to think about the music, and also to exchange more ideas with him about what I am going to score for him. I never ask any director to work with me, but it was Tarantino who told me, 'OK, there will be a next time.'
Tarantino had approached Morricone about the possibility of scoring The Hateful Eight after it had already wrapped shooting. At the time, Morricone would commit only to providing a theme, but as their collaboration went on he wound up doing the entire score after all — his first Western score in 40 years. Morricone explained that he loves the creative freedom Tarantino allows him:
Actually, Quentin Tarantino didn't give me any kind of specific indication. He didn't express any requirements, so this gave me a lot of freedom. But at the same time, it put on me a much bigger responsibility. I was motivated only by the willingness to do better than I had done in the past and to give him a unique score.
Tarantino hasn't been shy about his affection for Morricone's work, incorporating some of his earlier pieces in the movies Kill Bill, Inglourious Basterds, and Django Unchained. After the release of Django, Morricone went on public record blasting Tarantino for "plac[ing] music in his films without coherence" and declared that he "wouldn't like to work with him again, on anything." But the pair quickly patched things up. Morricone clarified that he shares "an artistic brotherhood" with Tarantino, and by 2015 they were working together on The Hateful Eight.
The 87-year-old Morricone is one of the most legendary composers in movie history, which makes it pretty shocking that the only Oscar he's taken home so far is an honorary award in 2007. (And here you thought poor old Leo had been waiting a long time for his statue.) He's nominated for the sixth time this year, though, for The Hateful Eight, and it looks like this might finally be his year — he's already picked up the Golden Globe and the BAFTA.
As for what Tarantino's mysterious next effort will be, there are a few possibilities. Not long ago, he teased that he had an idea for a 1930s gangster film set in Australia, and he's still making noises about maybe, someday, making a Kill Bill Vol. 3. He may also finally get around to adapting Elmore Leonard's Forty Lashes Less One, though he's indicated that he might do it for TV instead. Or, knowing Tarantino, it could be some other completely out-of-left-field project that he hasn't even mentioned yet. But with Morricone already on board, our anticipation is only growing.