The Original 'Good Times' Cast Wants To Kickstart A 'Good Times' Movie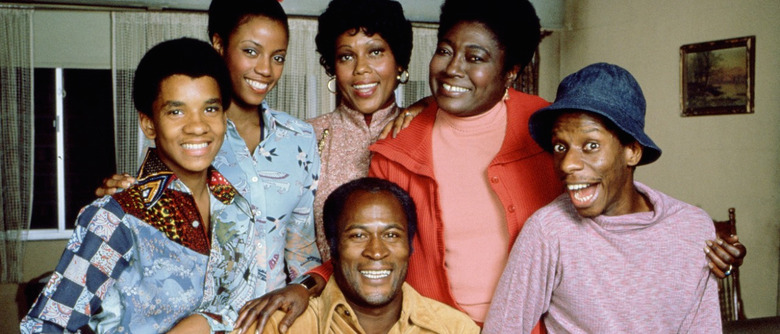 Back in 2014, a Good Times movie was announced. The show, which aired on CBS from 1974 to 1979, is to be adapted by Kenya Barris (Black-ish), with Scott Rudin and Eli Bush producing. News has been slow on that project, but now another Good Times movie is in the works, and you can fund it on Kickstarter.
Find out more about the Good Times revival below.
The remaining cast members of the show have gone to Kickstarter to raise $1 million dollars. Original cast mates John Amos, Ja'Net Dubois, Ralph Carter, Jimmie Walker, and Bern Nadette Stanis have been talking about doing a reunion for years now, and they made their case for why they want to make a Good Times movie on Kickstarter:
This is it, we're making a Good Times Movie. The only question is:
How big can we make it? We need your help.
From the day we walked off the set of Good Times, forty years ago, all we have heard is When are you going to have a Good Times reunion? Our audience have told us they need completion. They tell us we are not finished with the first Black T.V. family show. What happened? We want to see our favorite family show back on T.V.
Well, here it is a chance to make that happen. We as a cast have always said maybe one day, we will have a reunion. That one day is here now. It is not just up to us, it is up to our millions of fans who have the power to make it happen.
During these forty years as a cast we have been giving a numerous amount of scripts that were written about what happened to the Evans' family. The ideas are countless, but as a group we have made a decision on where each character should go and what this long awaited script should be about. We are bursting at the seems to bring this exciting movie to you. All that we can tell you at this point is that it will be exactly what you expect from us and more.
I am sure you will agree that the ones who can tell the stories of each character are those who have lived with those characters for forty years. That would be each one of us in the cast. Therefore in this movie we will have great input into what our characters will be about now. The success of kick-starter will give us as a cast control of what this movie will be about. Therefore bringing great satisfaction to our audience and to us as a cast who wants to bring nothing but the best to you.
We as the cast have decided to go on the Kick-starter website because we had heard this would be excellent in making the dream of a Good Times Movie Re-Union happen. We checked it out, studied the success of some of our favorite artists who have decided to bring their projects right here on kick-starter and have been very successful in seeing their projects become a reality through the help of their fabulous fans. This is exactly what we want our fans and Good Time lovers to do for our project. Support us in making this movie happen. You will become an active part of bringing this generational movie to the big screen.
You can read more of the explanation over at Kickstarter. How does this potential Evans' family reunion conflict with Sony's adaptation/remake? According to Deadline, the original cast and all involved are not infringing on copyright or trademark, because the characters have never been copyrighted or trademarked.
There are 16 days left for this Kickstarter. Currently the Good Times movie has only raised $4,000, but that number should grow soon.