'Amityville: The Awakening' Trailer: Jennifer Jason Leigh Just Loves Her New Home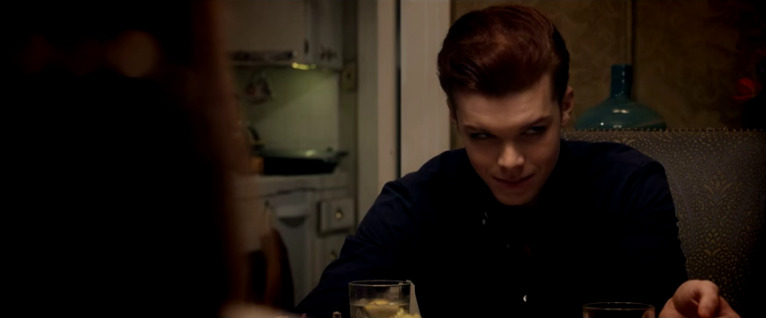 It was about a year and a half ago that we saw the first trailer for Amityville: The Awakening, which would bring the long-running horror franchise back to the big screen after a decade away. But its marketing push ended almost as quickly as it began, when Dimension Films suddenly yanked it off its 2015 release calendar. Eventually, though, the distributor got around to rescheduling it to 2016, so now it's starting its promotional campaign anew.
Oscar nominee Jennifer Jason Leigh plays single mom Joan, who's feeling really good about the new home she's just moved into with her three kids. It's nice and big, and situated in an idyllic suburb near a top-notch medical facility that can treat her comatose son James (Cameron Monaghan). Unfortunately, it also happens to bear the address 112 Ocean Avenue, which horror fans will recognize as the setting of The Amityville Horror. Bella Thorne stars as Joan's daughter Belle, who was cranky about the move even before the family realized they'd set up shop inside a horrifying murder house. Watch the Amityville: The Awakening trailer after the jump. 
This seems to be the same trailer we got for Amityville: The Awakening back in 2014. But look, a lot of time has passed since then, and the trailer wasn't exactly memorable. So you might as well watch it again to remind yourself that yes, this movie exists, and no, it still hasn't come out.
Amityville: The Awakening is directed by Franck Khalfoun, who's gotten some positive notice among horror fans for his Maniac remake. It doesn't seem like a good sign that so much time has passed since when this movie was shot and when it's being released, but that extra time may have made it slightly easier to sell this cast. Leigh is coming off of perhaps the best year of her career with Anomalisa and The Hateful Eight, and Monaghan recently proved just how creepy he could be as the maniacal Jerome on Fox's Gotham.Amityville: The Awakening will finally, at long last, hit theaters April 1.
AMITYVILLE: THE AWAKENING, is a revival of the popular franchise and a modern twist on the classic horror film.
In the film, Belle and her family move into a new house, but when strange phenomena begin to occur in the house, Belle begins to suspect her Mother isn't telling her everything and soon realizes they just moved into the infamous Amityville house.
AMITYVILLE: THE AWAKENING is directed by Franck Khalfoun (MANIAC, P2) and produced by groundbreaking and top horror producer Jason Blum of Blumhouse Productions (THE PURGE, INSIDIOUS, PARANORMAL ACTIVITY).
The film stars Oscar Nominee Jennifer Jason Leigh (THE HATEFUL EIGHT, ANAMOLISA, SINGLE WHITE FEMALE), popular young actress Bella Thorne (SCREAM, SHAKE IT UP) and up and comer Cameron Monahan (SHAMELESS, THE GIVER).