Watch The LEGO Star Wars 'Force Awakens' Prequel 'Poe To The Rescue'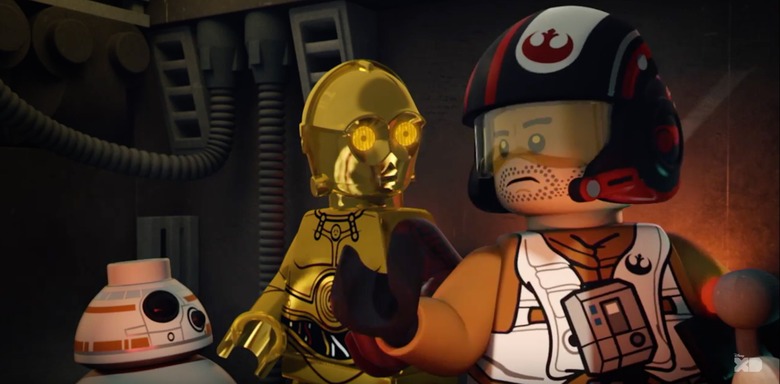 Disney has released the first in a new series of Star Wars animated short films titled LEGO Star Wars: The Resistance Rises a prequel to Episode VIII featuring characters from Star Wars: The Force Awakens. The first short in the series, titled Poe to the Rescue, originally premiered on Monday, February 15th at 8pm ET on DisneyXD, but is now online for everyone to enjoy. Watch LEGO Star Wars: The Resistance Rises Poe To The Rescue now after the jump.
Poe to the Rescue is the first episode in LEGO Star Wars: The Resistance Rises, a series of all-new animated shorts that take place prior to the First Order's attack on Jakku and tell never-before-told stories featuring Kylo Ren, Han Solo, Finn, Rey, BB-8, Maz Kanata and more. I love the humor surrounding C3PO's new red arm.
The first short follows Resistance pilot Poe Dameron alongside two droids, C-3PO and BB-8, as they come to the aid of Admiral Ackbar who is being held captive by Captain Phasma aboard a Star Destroyer. And of course, Kylo Ren returns to the Star Destroyer just in time.
This is technically considered Star Wars canon, right? I'm actually really excited to see more of these. Too bad this isn't the newly announced Star Wars animated series instead of LEGO Star Wars: The Freemaker Adventures — which I'm sure will be fine, but I really want more adventures with these new characters from Star Wars: The Force Awakens.
Airdates for the additional episodes have not yet been announced, but they will probably air on the DisneyXD network throughout the year.