'Confirmation' Trailer: HBO Remembers The Clarence Thomas Scandal Of The 1990s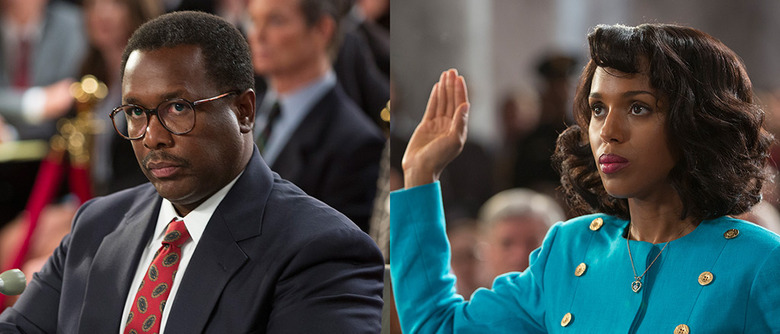 As President Obama looks to fill the spot left behind by Justice Antonin Scalia on the Supreme Court – and as the nation braces itself for the drama and controversy that's sure to follow — HBO is looking back at a very contentious Supreme Court appointment from the not-too-distant past. In 1991, then-president George H.W. Bush nominated Clarence Thomas to replace the retired Thurgood Marshall. During Thomas' confirmation hearings, a former colleague of his, Anita Hill, testified that he'd sexually harassed her years earlier.
Hill's accusations sparked a firestorm of controversy, inspiring loud conversations about gender equality and women in the workplace — conversations that are still going on today. Now, 25 years later, HBO is revisiting that watershed moment with Confirmation, a new movie directed by Rick Famuyiwa (Dope) and starring Kerry Washington and Wendell Pierce. 
Despite its 1990s setting, Confirmation feels incredibly timely in 2016. For starters, it's not too far removed from the "true crime" trend as seen in shows like American Crime Story: The People v. O.J. Simpson. It also dovetails nicely with the current public conversations about gender, race, and the intersection of both. And although Confirmation was in the works long before Scalia's death this past weekend, it's now poised to arrive just as the nation turns its attention to the highest court in the land, and begins to look closer than ever at the process by which justices are appointed.
Confirmation premieres April 16. Also starring is Greg Kinnear as Joe Biden.
Starring Kerry Washington, Wendell Pierce and Greg Kinnear, Confirmation takes a look behind the curtain of Washington politics, depicting the explosive 1991 Clarence Thomas Supreme Court nomination hearings where Anita Hill accused him of sexual harassment. The hearings brought the country to a standstill and became a pivotal moment in American culture forever changing how we perceive and experience workplace equality and gender politics. Rick Famuyiwa directs a script written by Susannah Grant.