'Pee-Wee's Big Holiday' Trailer: Pee-Wee Befriends Joe Manganiello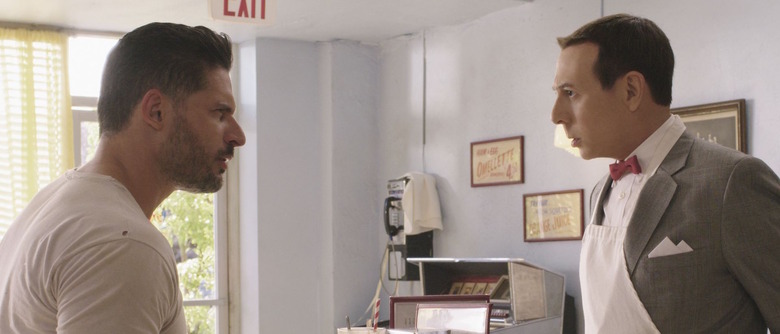 Nearly 30 years after he last hit the big screen in Big Top Pee-wee, Pee-wee Herman (Paul Reubens) is up to his old antics again this spring in Pee-wee's Big Holiday. This time, he's inspired to set out on his first-ever holiday, driving all the way to New York City. Along the way, he gets into all sorts of scrapes involving bank thieves, a snake farm, an Amish family, and much, much more. Watch the latest Pee-wee's Big Holiday trailer after the jump. 
So Pee-wee's entire journey is sparked by his desire to get closer to Joe Mangainello? That seems pretty relatable, actually. Look how cool and handsome this guy looks. Who wouldn't want to chase him across the country and become his best friend?
Reubens and Manganiello are friends in real life, and Reubens sounds excited to give Manganiello an opportunity to show off his comedic chops. "You want to not like [Manganiello] in a certain way. He's like pretty close to being perfect," Reubens told USA Today. "But he and his wife [Sofia Vergara] together are the dorkiest, nerdiest people. It's just hilarious. People don't get to see that side of him."
In any case, it seems like Pee-wee's heart eyes for Manganiello are just an excuse to string together a bunch of weird misadventures. "It always seems best when Pee-wee has very little plot — his movies probably have the least plot in the history of cinema," said director John Lee. "Why not embrace that?" A road trip seemed like the perfect vehicle, especially since it calls back to the character's first cinematic outing, 1985's Pee-wee's Big Adventure.
Pee-wee's Big Holiday makes its world premiere at SXSW next month before hitting Netflix on March 18. That's the same day as Daredevil season 2, just in case you need something light and sweet to break up all that gloom and doom.
The new film stars the beloved fun-loving hero of TV, stage and film, Pee-wee Herman. In Pee-wee's Big Holiday, a fateful meeting with a mysterious stranger inspires Pee-wee Herman to take his first-ever holiday in this epic story of friendship and destiny. The film stars Pee-wee Herman, Joe Manganiello (True Blood, Magic Mike XXL), Jessica Pohly (Stalker), Alia Shawkat (Arrested Development) and Stephanie Beatriz (Brooklyn Nine-Nine), and was directed by John Lee (Wonder Showzen, Pee-wee's Big Holiday). Paul Reubens and Paul Rust (Love, Arrested Development) wrote the film, that was produced by Reubens and Judd Apatow (Trainwreck, Bridesmaids).