'A Hologram For The King' German Trailer: Tom Hanks Gets A Second Chance In The Desert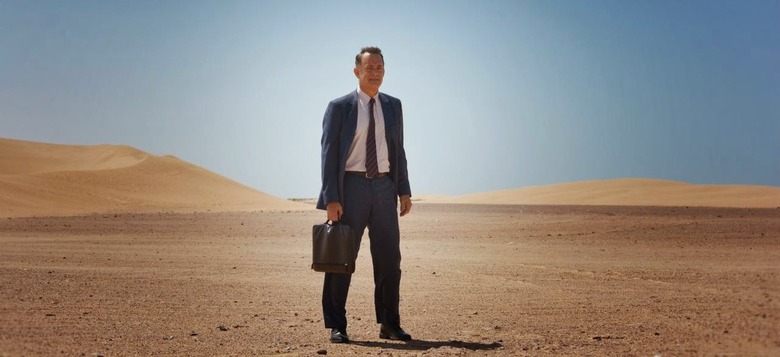 We haven't heard much about A Hologram for the King over the past two years, which is when we got our first look at Tom Hanks in the film. Tom Tykwer's adaptation of Dave Eggers' novel began shooting in March of 2014. It was surprising when the film didn't premiere at any major film festivals last year, but perhaps Tykwer was afforded the right amount of time to properly finish his upcoming project.
A Hologram for the King will soon be released, though, and a German trailer for the film has hit the web, in addition to a slew of new photos, which you can check out below.
Hanks stars as Alan Clay, "a foundering American businessman who finds himself in the middle of the desert trying to make a business deal, with unanticipated surprises along the way." The struggling businessman heads to Saudi Arabia to get some contracts signed to provide IT for a new building being constructed in the desert.
Here's the A Hologram for the King German trailer (via Indiewire):
Hanks last collaborated with Tom Tykwer on Cloud Atlas, which Tykwer co-directed with the Wachowski siblings. Cloud Atlas may not have done well at the box-office, but we rarely see movies that ambitious, and it did it give Hanks a handful of juicy roles to play. It's easy to see why the actor would want to work with Tykwer again, and based on the what we see of Hanks, it looks like another interesting, unexpected turn in his career.
Will the film connect with audiences? It's a hard sell, based on the trailer, but it's Tom Hanks — which is usually a good enough reason to go to a movie. Whatever the case, it's nice to see the actor still taking chances, not always making the most commercial or accessible movies. Hanks has made a career out of great crowd-pleasers, but every once in a while, he stars in a Cloud Atlas or A Hologram for the King.
With A Hologram for the King opening in theaters this spring, so expect a domestic trailer soon. The adaptation also features Sarita Choudhury (Homeland), Omar Elba (Intelligence), Tracey Fairaway (Enough Said), David Menkin (Zero Dark Thirty) and Tom Skerritt (Top Gun).
Here are a few new images from the film:
Here's a brief synopsis of the book:
In a rising Saudi Arabian city, far from weary, recession-scarred America, a struggling businessman named Alan Clay pursues a last-ditch attempt to stave off foreclosure, pay his daughter's college tuition, and finally do something great. In A Hologram for the King, Dave Eggers takes us around the world to show how one man fights to hold himself and his splintering family together.
The Hologram King opens in theaters April 22nd.